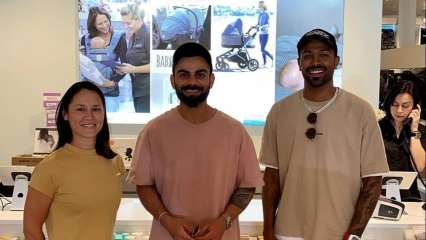 Virat Kohli and Hardik Pandya were in the center of a major controversy a couple of days ago when some Australian news media outlets reported that the duo were guilty of potentially breaching the bio-bubble protocol of Cricket Australia. Virat Kohli and Hardik Pandya visited a baby store in Sydney and were seen posing for photos with the staff. This was alleged to be a breach of the bio-bubble protocol set out by Cricket Australia. Both Virat Kohli and Hardik Pandya were part of the limited overs leg of three ODIs and three Twenty20 Internationals which were held in Sydney and Canberra. While Hardik Pandya returned to India after the end of the T20Is, Virat Kohli played the Adelaide Pink Ball Test and went back home as he is expected to become a father in January 2021.
However, the alleged bio-bubble breach has now gotten some clarification with the store owner of the baby shop where Virat Kohli and Hardik Pandya visited coming forward and dismissing the allegations. Nathan Pongrass, the owner of Baby Village based in Bondi Junction, Sydney, has said Virat Kohli and Hardik Pandya did not touch or shake hands with the staff while there was 'adequate social distancing'.
Speaking to an Australian journalist, Pongrass said that during the period of November-December, there were no new cases in New South Wales and there were no restrictions or rules related to wearing a mask at that time, Recently, there has been a major surge in coronavirus cases in Sydney's northern beaches area and that has resulted in questions as to whether fans will be allowed for the Sydney Test beginning on January 7.
Bio-bubble breach in Melbourne?
Recently, Indian cricketers Rishabh Pant, Rohit Sharma, Navdeep Saini and Kuldeep Yadav were all caught on camera eating at a restaurant. One Indian fan enthusiastically paid the bill and the Indian cricketers thanked him, with the fan stating on Twitter that Rishabh Pant reportedly 'hugged him'. However, this resulted in a major controversy as potentially was a breach of Cricket Australia's bio-bubble protocol. In that, it was mentioned that players could go out and eat but they could not greet anyone. The fan had to urgently issue a clarification stating that this did not happen.
All the players were placed in isolation and coronavirus tests were done for all of the five players. However, they all turned out to be negative for the coronavirus. All the Indian cricket team and staff have tested negative for the coronavirus when they arrived in Sydney.