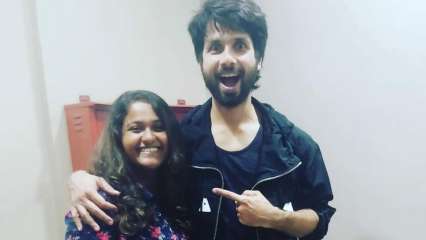 Remember Pushpa, the character who played Shahid Kapoor's maidservant in Kabir Singh? She is a popular face and her name is Vanita Kharat. The actor is a well-known face in Marathi entertainment industry and has been a part of several plays and movies. Now, she has made headlines for spreading body positivity by posing nude for a 2021 calendar shoot. Vanita posted the photo on her social media pages which have instantly gone viral on the Internet.
In the photo, she is seen covering herself with a blue kite while laughing wholeheartedly. Vanita styled her hair with heavy curls and posed nude with utmost confidence. Vanita captioned the photo stating, "'I am proud of my talent, my passion, my confidence, I am proud of my body… because I am ME…!!!" – @bharatdabholkar @abhijitpanse @ravan_future. Shot by – @tejasnerurkarr. Let's get together to join this Body Positivity Movement. #RavanFuture #productionhouse #BharatDabholkar #AbhijitPanse #bodypositivity #movement #calendar #complex #overcome #bodyacceptance #positivity #motivation #free #bold #beautiful #brave #courageous #nude #goldenconfidence."
Check it out below:
Vanita has been a part of several Marathi moves namely Vicky Velingkar. She also stars in a comedy Marathi TV show titled Maharashtrachi Hasya Jatra in which she is a regular face.
It was with Kabir Singh, Vanita made her Bollywood debut. She became an instant popular face and many memes were created out of the scenes she featured in with the leading actor Shahid Kapoor.