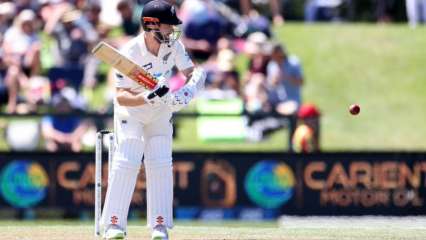 Kane Williamson has already ensured that 2021 is a record-breaking year for him and New Zealand. After scoring his third century in three games, Kane Williamson went on and scored his fourth double century as New Zealand continued to dominate Pakistan on the third day of the second Test at the Hagley Oval in Christchurch. Kane Williamson thus matched Brendon McCullum for scoring the most double centuries by a New Zealand player in Tests. Eventually, Kane Williamson was dismissed for 238 but this was the highest score by a New Zealand player in Tests against Pakistan, breaking the previous record of 204* set by Matthew Sinclair in 2001 at Lancaster Park in Christchurch.
Kane Williamson had already broken several records when his 369-run stand with Henry Nicholls was the best for the fourth wicket for New Zealand in Tests. Nicholls also smashed a century and Kane Williamson's exploits ensured New Zealand had a lead in excess of 300 and they came closer to finishing the season on the ultimate high.
Wasteful Pakistan
For Pakistan's bowlers, it was another day of toil and missed chances as they continued to leak runs. Shaheen Afridi was the only bowler to create problems while other bowlers like Naseem Shah and Mohammad Abbas were not helped by poor fielding from the Pakistan fielders.
Kane Williamson has potentially ended the series with an average close to 200 in the two Tests and his exploits have ensured New Zealand stay in contention for the final of the ICC World Test Championship that will be played in Lord's in June 2021. India and Australia are currently playing a four-Test series and the match is drawn 1-1. If either of Australia or India win the series, then it all hinges on India' upcoming series against England followed by Australia's tour to South Africa. If Bangladesh's series against New Zealand goes ahead, that will be the last series for New Zealand in the current ICC World Test Championship cycle.