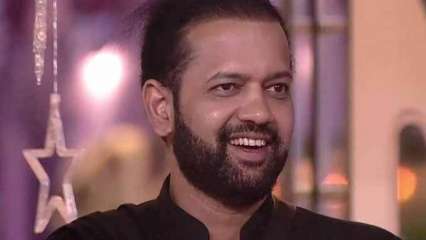 'Bigg Boss 14' took an interesting turn. Various artists entertained the housemates and brought in some surprises for the 'Bigg Boss' contestants. Mona Lisa came in and brought two surprise – one was dancing on the pole and another in the form of eviction.
She called all Aly Goni to dance on the pole on 'Chokra Jawaan', followed by Rubina Dilaik, and Abhinav Shukla. Very soon, almost all the boys from the house (Rahul Mahajan, Eijaz Khan), followed by the girls (Sonali Phogat), were seen grooving on the pole.
Mona Lisa also brought in a rude shock. She announced evictions and said that she would write a name on her mirror and kiss a name, and that person would be evicted. Mona Lisa wrote Abhinav and Arshi's name on the mirror first. Arshi said that she doesn't want her to kiss on either of the names.
Soon, Mona Lisa wrote the name 'Rahul' and like the housemates guessed, wrote 'Rahul M' (Rahul Mahajan)'s name and kissed the mirror, hinting that he is out. Arshi got really upset and couldn't beleive what just happened, till Rahul was out of the house.
After Rahul leaving the house, Arshi couldn't stop crying. Interestingly, her nemesis Vikas Gupta consoled her and asked her not to be weak, before leaving her alone.
Later, Arshi was seen sitting with Eijaz Khan. He was heard saying that he felt Sonali Phogat would go, not Rahul. Arshi then reminded him why he should be friends with everyone and the two recollected their time spent with Rahul, bidding him a final goodbye from the house.