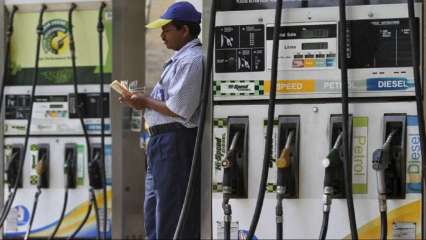 Petrol, Diesel Price January 4 update: Oil marketing companies kept petrol and diesel prices unchanged for the 28th consecutive day on Monday across the four metro cities. Prior to this, fuel prices were hiked for six consecutive days but on the oil marketing companies have decided to keep the prices on hold.
The OMCs have gone on a pause mode amid a rise in crude oil prices as Brent crude has been trading at over the $50 per barrel mark on the back of commencement of vaccination drives in several countries to counter the pandemic along with expectations of a big pickup in demand.
Retail prices of transport fuels have been the same ever since they were last revised on December 7.
For the first time after March, diesel prices were cut in September. The oil marketing companies had not changed the prices for 82 days at that time, as they had to adjust the increased record excise duty with the falling oil prices.
However, from November 20 till now, oil companies have increased the prices of petrol and diesel 17 times. Petrol prices in Delhi have increased by Rs 2.65 per litre during these 17 days, while diesel prices have increased by Rs 3.40 per litre. Petrol diesel prices went to this level in September 2018.
Today, even on the 28th day, the price of petrol in Delhi is Rs 83.71 per litre, in Mumbai, it is Rs 90.34. The rate of petrol in Kolkata is Rs 85.19 and the price in Chennai is Rs 86.51 per litre.
Petrol prices in 4 metro cities
Delhi: Rs 83.71
Mumbai: Rs 90.34
Kolkata: Rs 85.19
Chennai: Rs 86.51
Similarly, diesel rates are also the same as yesterday. Diesel is still being sold in Delhi at Rs 73.87 per litre. In Mumbai, the rate of diesel is only 80.51 per litre, in Kolkata also the price of diesel is Rs 77.44 per litre, and diesel in Chennai is Rs 79.21 per litre.
Diesel price in 4 metro cities
Delhi: Rs 73.87
Mumbai: Rs 80.51
Kolkata: Rs 77.44
Chennai: Rs 79.21
Fuel rates for the day announced at 6 AM
Petrol and diesel prices, if changed, are updated every day at 6 AM. The new rates come into effect from 6 AM onwards. The price of petrol and diesel almost doubles after adding excise duty, dealer commission and other items.
How to check petrol, diesel prices in your city
You can also know the daily rate of petrol and diesel in your city via SMS. Indian Oil customers can text 'RSP' at 9224992249 and BPCL consumers can write 'RSP' and send the message to 9223112222. HPCL consumers can find out the price by typing 'HPPrice' and sending the SMS to 9222201122.