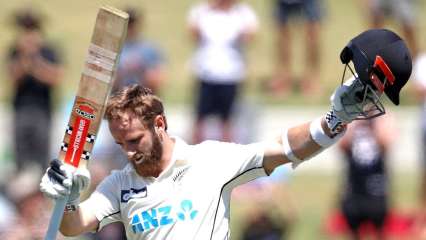 New Zealand skipper Kane Williamson was a delighted captain before the start of his side's second Test match against Pakistan as the Kiwis have a chance to not just become the No 1 Test team in the world if they win, but also move up in the World Test Championship (WTC) Points table.
Williamson, who has been part of the Test side since 2010, has been the most important cog in the wheel of New Zealand cricket across formats since. After taking over the captaincy from Brendon McCullum in 2015, Williamson has left his mark over the side, how they plan and conduct themselves on the field. Now, he has the opportunity to become the first-ever captain in NZ's cricket history to take the side to No 1 in the history of Test cricket.
Crediting, team's simple values and consistency in core group of players, on the eve of the Christchurch Test, Williamson said, "Every game you play, every test you play, any opportunity to win a Test you want to take, but to get into those positions naturally there is just so much hard work, from the first period of play to perhaps late in the match, so for us that's the focus."
"I suppose when you start out as a young player, you want to find your feet and get an understanding for the group that you're in. I guess anybody that gets an opportunity to play one Test for their country or any format perhaps. I think there's something special about Test [cricket] and wearing that baggy is such an amazing thing and one that you certainly never assume. Whenever that time comes or if that time comes, it's just a complete surprise and a fantastic moment to perhaps fast-forward to a number of years and the focus changes from first Test to being involved in a group, a fairly consistent group for such a number of years. And trying to be part of moving that team forward is a different focus and really enjoyable challenge to be involved in," he added.
New Zealand continued their unbeaten run in the longest format of the game at home as they notch-up their fifth consecutive win in as many matches in 2020 as they beat India 2-0 in February and West Indies in December. Williamson, who became the No 1 Test batsman in the world leapfrogging Steve Smith and Virat Kohli, was not swayed by the team's invincibility at home.
"Looking back, we were competitive at times, but certainly not all the time. And the team has come a long way in terms of bringing an element of consistency mainly to their behaviours, which I think has been really important, simple values which are important to our group and to Kiwis, simple things we want to commit to day-in day-out," he said.
"That doesn't always reflect in the performance being perfect – very rarely is it perfect – but certainly it can help a team grow, and it has contributed to the team moving in that direction. But, here we are now on the eve of another game, where anything can happen. It's about peeling it back and focus on what's important to the group and keep looking at the bigger picture and how we can hopefully continue to trend in the right direction, facing the challenges that we continue to face."
Apart from reaching such heights in Test cricket, Williamson has also managed to take New Zealand to another World Cup final in 2019 after McCullum's side finished second in 2015. The towering success in the game of cricket in a country where Rugby is the primarily followed sport, has helped gain many followers and avid fans in the last few years.
Talking about the increased viewership in their country, Williamson said, "Yeah, I hope they're enjoying it watching and those sort of things. For us, it's important we play to the best of our ability as much as we can. This game that we play is fickle and doesn't always happen like that and winning Test matches are very tough.
"We certainly respect that and we know how challenging it is against any international opposition. So, we want to keep starting again and commit to what's important to our group and uphold the behaviours that are important to the team. And we do hope that connects with the Kiwi public," Williamson further said.