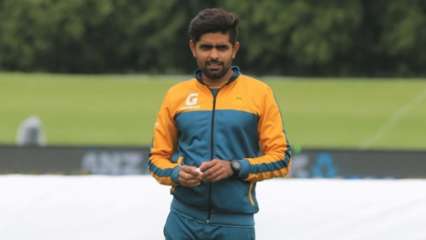 Pakistan cricket team's quest to level the two-match series against New Zealand suffered a massive blow as Babar Azam was ruled out of the 2nd Test at the Hagley Oval in Christchurch beginning on January 3. In his absence, Mohammad Rizwan will continue to lead the Pakistan cricket team for the match. Thus, Babar Azam will have missed the entire tour of New Zealand, having missed all the three Twenty20 Internationals and the Test at the Bay Oval in Mount Maunganui. Babar Azam sustained the injury during a practice session in Queenstown. According to the Pakistan Cricket Board (PCB) statement, Babar Azam has failed to recover sufficiently from a right thumb fracture. Pakistan have lost the Twenty20 International series 1-2 and the Bay Oval Test by 101 runs with just 27 balls remaining in the match.
Babar Azam is considered as one of the best players in the Pakistan cricket team and his record in Twenty20 Internationals is one of the best among the current lot of Pakistan players. Babar Azam is also one of the best players in the Pakistan cricket team. Pakistan have been plagued by injuries, with Shadab Khan missing the first Test at the Bay Oval due to a thigh injury.
New Zealand eye perfect end
New Zealand will be determined to win their sixth consecutive Test at home in the 2020/21 season. After whitewashing India 2-0 and the West Indies by the same margin in February 2020 and in November, New Zealand will be determined to repeat the scoreline against Pakistan. A win in Christchurch will help New Zealand win their third consecutive series against Pakistan, having won in 2016 and 2019.
New Zealand have become the No.1 ranked side in the world in Tests and they are in contention for the final spot in the ICC World Test Championship that will be played in Lord's in June 2021. In the last match played at the Hagley Oval, New Zealand crushed India by a big margin to secure a series win. A win for New Zealand and a loss for India might make the race for the finals of the ICC World Test Championship even more interesting.