A photo of Ranbir Kapoor, Alia Bhatt, Deepika Padukone and Ranveer Singh has been going viral on the internet. Ranbir Kapoor and Alia Bhatt were celebrating New Year 2021 in Ranthambore and were joined by Ranveer and Deepika there.
While Ranbir and Alia took their trip with their family members, Ranveer and Deepika were travelling without their parents. Neetu Kapoor, Riddhima Kapoor Sahni, Samaira Kapoor, Bharat Sahni, Soni Razdan and Shaheen Bhatt were seen rining in New Year with Ranbir and Alia. Ranveer was also often seen in photos posted by Neetu and Riddhima from Ranthambore.
However, a photo of Ranbir, Alia, Ranveer and Deepika together was not out, till now. In the photo, the four top Bollywood actors took a trip to Ranthambore forest and posed together, next to one another. They were all (except Deepika) twinning in black jackets, giving the ultimate friendship goals.
Deepika was seen with a black shawl. Ranbir and Alia posed without a mask, but both Ranveer and Deepika were spotted with a black mask on them as they posed for the cameras.
Take a look:
The Kapoor and Bhatt family posed for one last photograph from the Ranthambore trip, for one last time, and it was a memorable one. In the photo, Ranbir and Alia opted for a similar style of clothing – matching jacket and pants. While Ranbir wore a black t-shirt with blue pants and jacket, Alia Bhatt opted for a white top with olive green pants and jacket.
Ranbir posed next to Ayan Mukerji, while Alia was seen next to Ranbir's mother Neetu Kapoor. Sharing the photo, Riddhima Kapoor Sahni wrote, "End to a fantastic trip! Making memories #FamilyBonding #NewYear2021."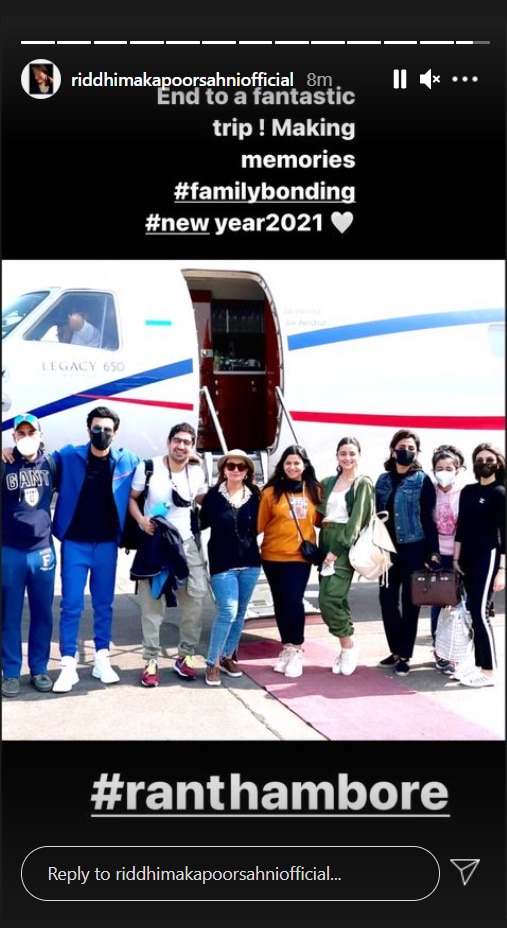 On New Year's eve, Alia was seen in a party in the middle of the Ranthambore forest with the Kapoor family, mainly Riddhima Kapoor Sahni, Neetu Kapoor and Samara Kapoor, along with her own family members – sister Shaheen Bhatt and mother Soni Razdan. Ranbir was nowhere to be seen in the photos but reportedly the actor played a pivotal part in preparations for the bash.