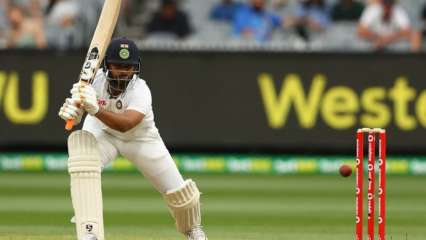 One Indian cricket team fan has gone viral on social media after he paid a bill worth Australian dollars 118 for the Indian cricket team after players like Rohit Sharma, Shubman Gill, Rishabh Pant and Navdeep Saini were spotted eating at the restaurant. Although that act has gotten massive appreciation from social media, it has reportedly put Rishabh Pant in trouble. The reason? Rishabh Pant hugged the Indian fan for the gesture and this has fallen foul to Cricket Australia's bio-bubble protocol. According to the rules set out by Cricket Australia for the bio-bubble, it states that players can go out for meals and they can sit in outdoor areas. However, the reported footage that has emerged is that Rishabh Pant has hugged the fan and he could face some sanction.
Although technically the BCCI (Board of Control for Cricket in India) has to look into it, even Cricket Australia is investigating the incident. Victoria was under a huge lockdown for four to five months as that state became the coronavirus hotspot in Australia. The Indian cricket fan also revealed it in his tweet.
After taking the video, the individual ordered extra food for himself so that he could watch his favorite players. In the third tweet, he uploaded a photo of a bill worth AUD 118, which is close to Rs 6700. The fan and captioned, "They are not aware but i have paid there table bill 🙂 . Least i can do for my superstars." When the Indian cricket team players found out, they were overwhelmed. Rohit Sharma told the individual that he must take the money. Navaldeep Singh said, "When they got know that i have paid the bill.. Rohit sharma said bhaji pese lelo yaar acha nai lagta (Take the money, brother. It is not nice).. i said no sir its on me. Pant hugged me and said photo tabhi hogi jab pese loge wapis (A photo with you is possible only if you take the money). I said no bro not happening. Finally sabane photo khichwai 🙂 mja aa gya yaar." Rishabh Pant, in his typical humorous style, replied to Navaldeep Singh's wife stating," Thank you bhabhi ji for the lunch."
Bio-bubble breaches
Recently, during the England vs West Indies series, Jofra Archer was suspended for breaking the bio-bubble protocol set out by the England and Wales Cricket Board. Recently, during the Big Bash League, Chris Lynn and Dan Lawrence of the Brisbane Heat were fined AUD 10,000 for being snapped taking a selfie with a fan in Canberra and also hopping in a taxi.
The Sydney Test begins on January 7 and there is a big concern on whether the Test will see crowd attendances as Sydney battles a coronavirus surge in the Northern Beaches section of the city. Although the number of cases have come down, Sydney health authorities are urging people to not celebrate much in case of a milestone or a wicket at the stadium.