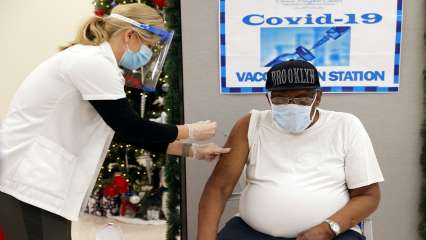 Pfizer Inc and its partner BioNTech Se plan to give volunteers who received a placebo in its COVID-19 vaccine trial an option to receive a first dose of the vaccine by March 1, 2021, while staying within the study.
The trial's Vaccine Transition Option allows all participants aged 16 or older the choice to discover whether they were given the placebo, "and for participants who learn they received the placebo, to have the option to receive the investigational vaccine while staying in the study," the companies said on their website for trial participants.
The US Food and Drug Administration and a panel of its outside advisers have expressed concerns over Pfizer's "unblinding" plan, saying it could make it harder to continue collecting data on safety and effectiveness needed to win full FDA approval of the vaccine.
Trial participants who received the placebo will have two doses of the investigational vaccine reserved for them within the study, the companies said on the website.
"The study doctor will follow the latest guidance from the US Centers for Disease Control and Prevention and their local health authorities to offer the Vaccine Transition Option to participants in a prioritized manner," the companies said.
Meanwhile, BioNTech is working flat out with partner Pfizer to boost production of their COVID-19 vaccine, its founders said, warning there would be gaps in supply until other vaccines were rolled out.
The German biotech startup has led the vaccine race but its shot has been slow to arrive in the European Union because of relatively late approval from the bloc's health regulator and the small size of the order placed by Brussels.
The delays in rolling out the home-grown vaccine have caused consternation in Germany, where some regions had to halt vaccinations within days of starting an inoculation drive.
"At the moment it doesn't look good – a hole is appearing because there's a lack of other approved vaccines and we have to fill the gap with our own vaccine," BioNTech CEO Ugur Sahin told news weekly Spiegel.