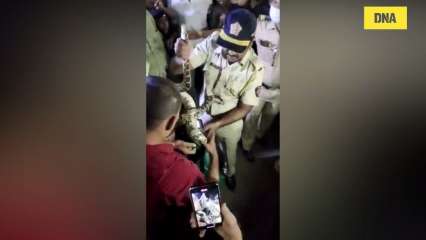 In an exemplary show of courage, a Mumbai cop captured a python with his bare hands in the Dharavi locality of the city on Thursday (December 31) night.
In the mobile video that recorded the entire sequence of events, officer Murlidhar Jadhav of the Mumbai police can be seen catching the snake with his hands, displaying his courage and sense of duty.
It is reported that a python entered a house in the Dharavi locality during the New Year 2021 celebrations on December 31. The sight of the massive snake scared the people present there.
In a hurry, the people present called the police to take control of the situation. The police team soon reached the spot and took into consideration the concerns of the people.
The police took the help of the crowd that had gathered to see the event. Murlidhar Jadhav then showed his skills and bravery and captured the python with the help of others.
The brave cop handled the matter with both urgency and sensitivity. He rescued the python using torchlight from mobile phones and held onto its neck as the python coiled around his arms. He carried the snake and dropped him into a sack.
That's a BIG catch!

A video from Mumbai's #Dharavi is going viral that shows #MumbaiPolice personnel catching a HUGE python from a house during #NewYear celebrations@MumbaiPolice #NewYear2021 pic.twitter.com/ZpyDjczdcN

— DNA (@dna) January 1, 2021
The crowd cheered the police officer and praised him for his show of courage and duty. They even carried him atop their shoulders and raised slogans to show their admiration for his bravery.
Such cases of man and animal conflict have become fairly common in the urban quarters of the country. It requires a lot of courage and patience to handle such matters to avoid hurt and further escalation.
The snakebites from straying snakes are pretty common across India and claim as many as 58,000 lives every year. The snakes were officially added to the country's list of 'conflict species' in 2020.