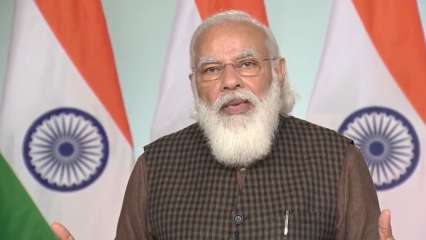 Prime Minister Narendra Modi remained popular amid the COVID-19 pandemic and gained highest approval ratings among world leaders, according to a survey by a United States-based research firm.
The survey conducted by Morning Consult tracked the approval ratings of different leaders in their countries. In its results, the research firm showed that PM Modi had an approval rating of 55.
The survey, which was based on a seven-day moving average of adult citizens in the target countries, showed that the popularity of Australian PM Scott Morrison and Mexican President Andres Manuel Lopez Obrador also rose during the coronavirus pandemic.
As of December 22, the Australian PM had an approval rating of 27 and Mexico's President scored 29 in approval ratings.
During his address on December 31 after laying the foundation stone of a new All India Institute of Medical Sciences (AIIMS) in Rajkot, Gujarat, PM Modi said that India was preparing for the world's largest COVID-19 vaccination drive.
"I appeal to the people of the country that fight against COVID-19 is the one against an unknown enemy. Be careful about such rumours and as responsible citizens refrain from forwarding messages on social media without checking," the prime minister, said while addressing the rumours around COVID-19 vaccination.
PM Modi also shared his mantra for the new year 2021: "Earlier, I said, 'dawai nahi toh dheelai nahi' (no carelessness until the medicine arrives). Now, I am saying 'dawai bhi aur kadaai bhi' (yes to medicine and yes to caution). Our mantra for the year 2021 is Dawai bhi aur kadaai bhi."
In his address via video conference on December 31, the prime minister also said that India had emerged as the nerve centre of global health and it was required to strengthen India's role in healthcare.