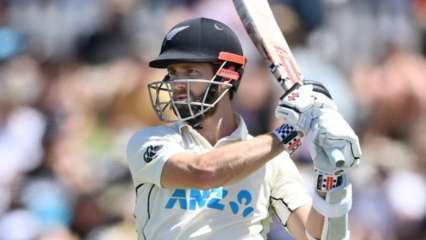 Move over Virat Kohli and Steve Smith. There is a new No.1 Test batsman in the world and he is New Zealand skipper Kane Williamson. In the latest ICC rankings that were released on Thursday, Kane Williamson has dethroned Virat Kohli and Steve Smith as the No.1 ranked Test batsman. This comes on the heels of New Zealand becoming the No.1 ranked team in Tests for the first time in their history. Virat Kohli has not scored a single century in any format in 2020 and had endured a miserable tour of New Zealand, managing just an average of nine. Steve Smith, on the other hand, has not crossed double digits in all four innings of the ongoing series against India. Kane Williamson, on the other hand, has enjoyed phenomenal success in the last couple of months.
During the series against West Indies, Kane Williamson hit a brilliant 251 which was his highest individual score in Tests. In the recent Test against Pakistan at the Bay Oval in Mount Maunganui, Kane Williamson scored his 23rd century and helped New Zealand win the match by 101 runs to keep their chances of qualifying for the final of the ICC World Test Championship in June 2021 alive. New Zealand have won five consecutive Tests at home in 2020, starting with clean sweeps against India and the West Indies as well as the win against Pakistan in Kane Williamson's hometown. In between, Kane Williamson also became a father.
Among the bowlers, Pat Cummins remains at No.1 but Ravichandran Ashwin had moved up to the seventh spot following a brilliant show in both Adelaide and Melbourne. Jasprit Bumrah is in the ninth spot. Williamson has opened up a 11-point lead against Virat Kohli while Steve Smith is just two points behind Kohli.
How it started v how it's goingpic.twitter.com/XKyEJUgUAS

— ICC (@ICC) December 31, 2020
ICC World Test Championship final race heats up
With New Zealand winning against Pakistan at the Bay Oval and India getting the better of Australia in Melbourne, the race for the final in the ICC World Test Championship in June 2021 has gotten tense. When New Zealand finish the Hagley Oval Test against Pakistan, their series cycle would have ended with the fate of the Bangladesh tour uncertain. The series, which was the last in the ICC World Test Championship for New Zealand, was slated to be held in August but the coronavirus pandemic forced it to be postponed.
If that series goes ahead and New Zealand manage to win it and India do not win more than five games out of the remaining six Tests, then New Zealand could seal their sport in the final of the ICC World Test Championship that will be played in Lord's.