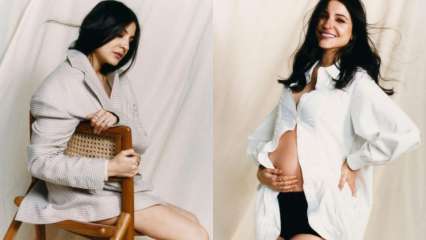 Actress-producer Anushka Sharma, who is all set to welcome her first child with husband-cricketer Virat Kohli in January 2021, is giving major maternity goals in her latest photos from a photoshoot that she indulged in as part of featuring on a fashion magazine's cover. 
For the first time ever since Anushka broke the news of her pregnancy, the actress has spoken in-depth about it and shot multiple pictures looking absolutely breathtaking, flaunting her heavily pregnant belly with confidence. 
Exuding grace and comfort combined with her minimalistic and conscious approach, Anushka is the epitome of beauty in her recent photos in which she is seen donning simple yet chic garments.
Take a look:
Expressing how the pandemic was a blessing in disguise for Virat and her and how disclosing how they were able to keep the pregnancy new sunder the wraps, Anushka told Vogue in an exclusive interview, "The pandemic has been a weird blessing in a way. Virat was around and I could keep it a secret. We only left to go to the doctor's clinic. No one was on the streets so we couldn't be spotted."
Opening up about how her body has adapted to the changes, Anushka told Vogue in an exclusive chat, "You are more connected to your body, to all that is happening. It's mind-boggling when I see the changes. It's amazing." She added, "I've always meditated. It's a daily practice, and my life has been quite balanced, so I've carried that forward. The only difference is that I've had a lot more time."
Revealing that both Virat and she do not want to raise a child in the public eye, mentioning that 'no kid should be made to feel more special than the other', Anushka told the magazine that though it is going to be a difficult task, but they intend to follow it through. "We've thought about it a lot. We definitely do not want to raise a child in the public eye — we don't plan on engaging our child in social media. I think it's a decision your child should be able to take. No kid should be made to be more special than the other. It's hard enough for adults to deal with it. It's going to be difficult, but we intend to follow through," Anushka said.
An animal lover and advocate of animal rights, Anushka spoke about preparing an animal-themed nursery for her baby. She said, "I want the nursery to be very calm. It's the place where you spend the most amount of time, where you are bonding with your baby, so it has to be peaceful. I don't believe that boys have to wear blue and girls pink. The nursery has all colours. Both Virat and I love animals and we want our baby to have that bond too. They are a big part of our lives and we really believe they can teach kindness and compassion to children."
On dividing baby duties with Virat, Anushka told Vogue, "We don't see it as mum and dad duties but as a family unit. For us, it's important that our child be raised with a very balanced outlook. It is all about shared duties. I will be the primary caregiver, especially in the first few years, and that's the reality. I am self-employed and I can decide when I am working if I do one or two films a year. In Virat's case, he plays round the year. What becomes important is the time we spend together as a family.
For the unversed, in a recent media statement, Anushka had revealed that she will be back to work soon after delivering her first child. 
Industry buzz was that Anushka will return to doing full-fledged work by May, 2021 and she confirmed the same by stating, "Being on the set brings me a lot of joy and I'm going to be shooting continuously for the next few days. I will be back shooting again once I deliver my first child and establish a system at home that ensures me to balance my child, my home and my professional life. I intend to keep working for as long as I live because acting truly makes me happy."