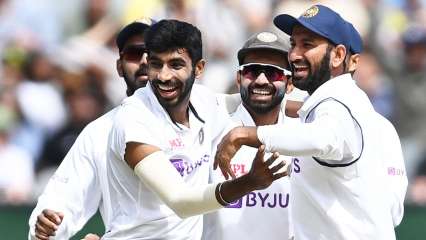 Cricket Australia confirmed that the venue for the India vs Australia 3rd Test will be the Sydney Cricket Ground after plenty of uncertainties. However, New South Wales' health authorities have asked for a weird request from fans amidst the coronavirus pandemic. Cricket Australia is planning to get fans at 50 percent capacity for the New Year Test but health authorities in the state have urged people to no celebrations or cheering from the stands. "We will be handing out masks on public transport going into the SCG, and advising people to wear masks when they are not physically at their seat. We also are asking people to ensure that they recognise (rules) around screaming and chanting, particularly when they are not in their fixed location," New South Wales Chief Health Officer Kerry Chant told a media briefing on Wednesday.
The move comes after a renewed outbreak of the coronavirus pandemic in Sydney in the last one week. After being without a new case of COVID-19 for several weeks, New South Wales has recorded more than 100 infections linked to a recent outbreak in the city's northern beaches. The number of people gathering for celebratory events has been capped to 30 by New South Wales but Cricket Australia, in co-ordination with health authorities in New South Wales, have managed to get people at the Sydney Cricket Ground at 50 percent capacity, similar to the ODI series.
Even in Melbourne, the venue of the iconic Boxing Day Test, the attendances were capped at 30,000 at a venue which has a capacity of close to one lakh. The coronavirus pandemic in Sydney had caused some concern over the status of Rohit Sharma, who was undergoing quarantine after arriving in Australia on December 16 but the BCCI management said he was safe.
India on a roll
Ajinkya Rahane's India cricket team are on a roll after winning the Boxing Day Test in Melbourne for the second consecutive time when they won by eight wickets. The win came amidst the backdrop of being bowled out for 36 in Adelaide as well as the absence of key players like Mohammed Shami, Virat Kohli, Ishant Sharma and Rohit Sharma.
India are currently practising at the Melbourne Cricket Ground and will head out to Sydney after New Year for the third Test that will begin on January 7. Both India and Australia will arrive 72 hours before the Test match, according to Cricket Australia CEO Nick Hockley. Rohit Sharma will join the squad on Wednesday and he is expected to be fit for the Test match. To mitigate risk, they will stay in Melbourne longer than planned before arriving in Sydney a couple of days before the match starts. They will also be subject to stricter biosecurity protocols in Sydney, and for the fourth test in Brisbane.