Earlier on Tuesday, December 29, Ranbir Kapoor and Alia Bhatt were spotted at Mumbai airport. Neetu Kapoor and Riddhima Kapoor Sahni were also seen there. Soon after, Ranveer Singh and Deepika Padukone were also seen at the airport. They were all headed to Jaipur to celebrate New Year 2021.
After reaching Jaipur, Neetu Kapoor spent time with Ranbir Kapoor, Alia Bhatt, Ranveer Singh and Deepika Padukone. She shared a selfie with Ranbir and Ranveer which has been going viral on the internet.
In the photo, Ranbir and Neetu were seen in a black attire. Ranveer Singh, on the other hand, was seen in a checkered jacket. He posed behind Ranbir and Neetu, who were sitting close to one another in the picture. The photo also appears to feature Alia.
Take a look: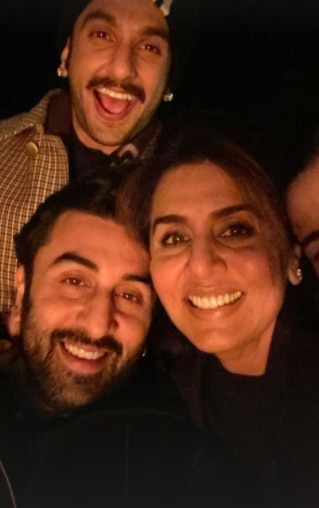 Apart from the picture with Ranbir and Ranveer, Neetu Kapoor also shared a photo with daughter Riddhima Kapoor Sahni. In the image, Riddhima was seen giving Neetu a side hug. Riddhima was seen in a shiny white attire. Posting the image, Neetu wrote, "Start of the New Year."
See it here: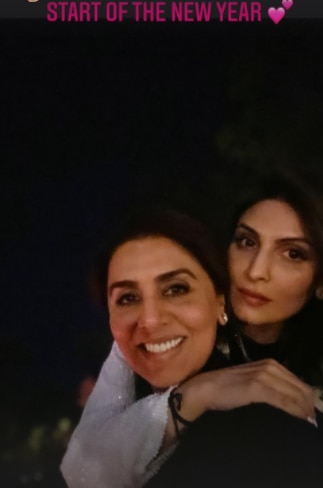 Earlier in the day, Neetu penned the note by talking about losing Rishi, getting back to acting with Jug Jugg Jeeyo and also about testing positive for COVID-19. Her note read as "2020 was quite a roller coaster!!! When YOU left I felt like a deer caught in the headlights not knowing where to go… #jjj was cathartic at that time as it gave me something to look forward to!!!"
She added, "Then Covid happened. I could have never gone thru so much without my cuties. Thank you both for holding on #RnR #jugjuggjeeyo."
While heading to Chandigarh for Jug Jugg Jeeyo shoot, Neetu had written, "My first flight, in these scary times!!! Nervous for this journey!!! While Kapoor Sahab, you aren't here holding my hand, I know you are with me .. #RnR thank you for encouraging me to do this… #jugjuggjeeyo."