Megastar Rajinikanth was discharged from Apollo Hospital, Hyderabd on Sunday. The actor was hospitalized on December 25 after suffering from severe blood pressure fluctuations.
The hospital bulletin released on Sunday confirmed the news. It stated, "Mr.Rajnikanth was admitted to the hospital on 25 December 2020 with severe hypertension and exhaustion. He was kept under close rnedical supervision and treated by a tearn of doctors."
The statement further mentioned, "His blood pressure has been stabilized and he is feeling much better. In view of his improved medical condition he is being discharged from the hospital today. In view of his post-transplant status, labile hypertension and age the following advice has been given in addition to the medications and diet."
Rajinikanth has been advised complete bed rest for a week with regular monitoring of his blood pressure count. He is also asked to refrain from performing physical activities and keep away from stressful situations.
"1. Complete bed rest for 1 week with regular monitoring of blood pressure 2. Minimal physical activity and avoid stress In view of the above conditions he has also be. counselled to avoid any activity that increases the risk of contracting Covid-19," the bulletin read.
Here it is: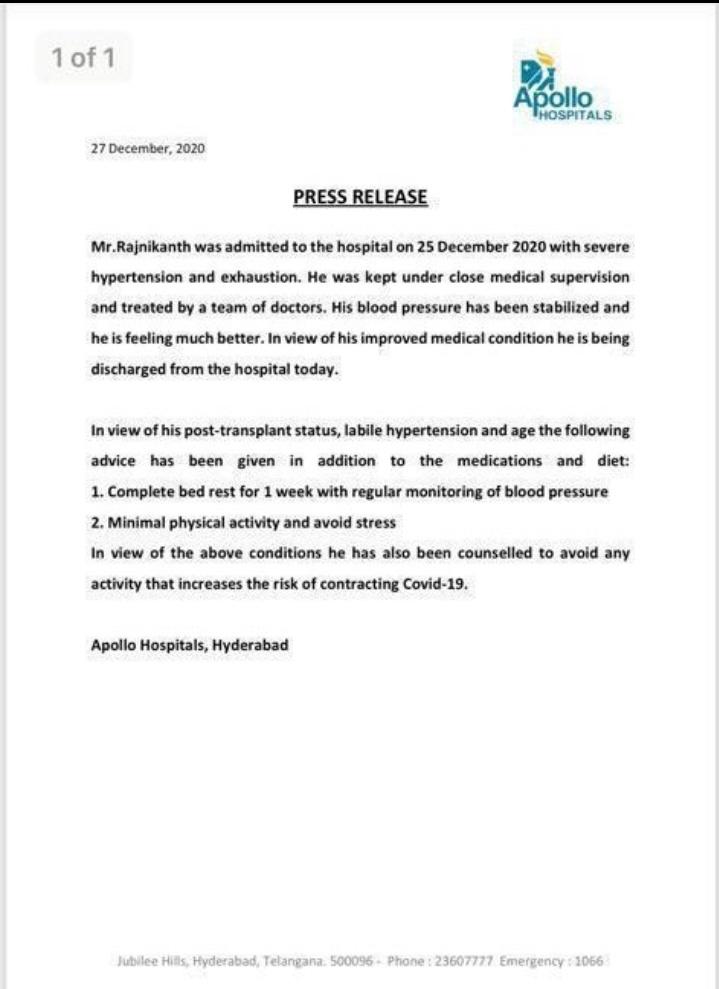 Rajinikanth's daughter Aishwarya Rajinikanth was in the hospital to take care of his needs.
Earlier, a statement from the hospital released on Friday mentioned that the family and doctors attending the superstar have requested all well-wishers to avoid visiting the hospital.
The actor was shooting for Tamil film `Annaatthe` in Hyderabad for the last 10 days.
A couple of people on the film sets had tested positive for Covid-19. Rajinikanth was tested on December 22 and his results were negative. Since then he isolated himself and was monitored closely.
"Though he did not have any symptoms of Covid-19, his blood pressure showed severe fluctuations and needed further evaluation for which he has been admitted to the hospital," said an earlier statement by the hospital.
(With inputs from IANS)