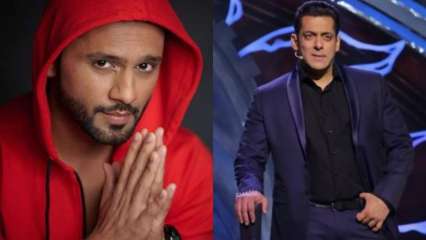 The 'Weekend Ka Vaar' episodes with Salman Khan are always packed with fun, drama and a whole lot of entertainment. And this weekend is going to be super special with Christmas and Bhaijaan's 55th birthday celebrations coinciding. 
However, as we all know that in the Bigg Boss 14 house nothing is complete without a little bit of drama, especially on weekends when the superstar interacts with the housemates and takes stock of the actions during the week. 
In a recent promo released by Colors, one can see contestant Rahul Vaidya, who had voluntarily exited the show citing 'home-sickness', returned a week or so later, at loggerheads with none other than host Salman Khan himself, urging the star to not addressing him as someone who ran away.
Salman then says the exact words to Rahul again and asks him not to justify his previous action. While Rahul requests that people should not think that he ran away from the house, Salman insists that he should not try and justify the fact that he left the house in an unceremonious way. 
To this, Rahul is seen asking the host why was he then asked to return to the show. Salman responds by saying that no one insisted on him returning. 
He points out that no one begged him to return on the show and that Rahul should be asking himself why did he choose to come back. 
Salman adds that despite everything going in Rahul's favour ever since he has returned, he is not appreciative of it. The superstar also points out that if Rahul happens to win, it will be unfair to contestants like Rubina, Abhinav, Eijaz, Jasmin who have been in the house since the beginning.
Salman also tells Rahul that he should not try and put the blame of anything on him. "Don't put it on me," Salman is heard saying in the promo.
Meanwhile, in the episode, we will see Rubina taking to the mic and becoming an RJ with her exclusive show, The Rubina Show.
She has lots of fun with contestants with dance music and lots of entertainment lined up for the evening. 
In addition, the housemates will see the entry of Harsh Limbachiyaa and his little Santa Claus, Garvit! 
What and how exactly things pan out between Rahul Vaidya and Salman Khan will be seen in the 'Weekend Ka Vaar' with Salman Khan episode on Saturday.