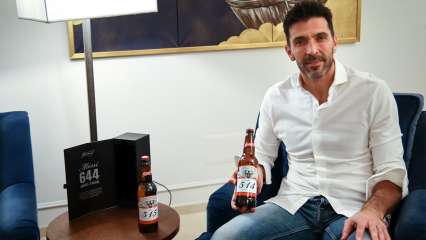 Lionel Messi is a goal-scoring phenom in the world of football. His records and his brilliance only tell part of the story to his legendary status as one of the best footballers in the world along with Cristiano Ronaldo. Lionel Messi has played for Barcelona ever since he started his playing career and under him, Barcelona have become one of the dominate clubs in the history of football. Recently, Lionel Messi created a new world record as he scored his 644th goal for Barcelona in their La Liga clash against Valladolid. The feat by Lionel Messi made him the player with the most goals for a single club in a career and this beat the previous record set by Pele who scored 643 goals for Santos in his playing career.
Now, in a tribute that is set to thrill fans and sporting personalities the world over, the American beer company Budweiser has started a unique tribute. In this tribute, Budweiser is sending a personalized bottle to each of the goalkeepers he scored against. Each bottle will have a corresponding goal in front of the label. Former Valencia goalkeeper Diego Alves has received the most bottles with 19. This might be considered a bittersweet way to be remembered. Real Madrid goalkeeper Iker Casillas is next on the list as he will get 17 bottles. Thus, from a bottle to a crate, all the goalkeepers who conceded a goal against Lionel Messi are all set to be rewarded.
Lionel Messi brilliance
Following his record breaking goal against Valladolid, Pele himself came out and said that he admired Lionel Messi the most in his career. Both football legends share plenty of respect. While Pele helped Brazil win two World Cups in his playing career, Lionel Messi has not been so lucky with the Argentina legend coming close in the 2014 World Cup final but Argentina were denied victory by Germany thanks to a superb goal in extra time from Mario Goetze.
20 years. 1 club. 644 goals. Kings aren't made overnight

Leo Messi now holds the record for most goals scored at a single club.#BeAKing #Messi #KingOfBeers #KingOfFootball pic.twitter.com/o9s0wQw77w

— Budweiser Football (@budfootball) December 22, 2020
FC Barcelona have not started their La LIga campaign on a bright note and there is speculation that Lionel Messi might leave Barcelona during the January transfer window. However, if he leaves, he would have left Spain's goalkeepers with plenty of merry and cheer, thanks to the initiative by Budweiser.