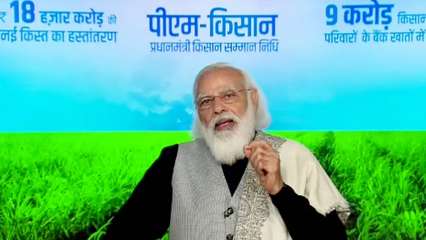 Prime Minister Narendra Modi on Friday encouraged the farmers to sell their crops wherever they want and in any manner that brings them more money for the produce. 
Interacting with the farmers through video conferencing after releasing Rs 18,000 crore under the PM-Kisan scheme, Modi said that under the new farm laws, ownership has been given to the farmers.
"Sell your crop where you get more money. You want to export, or make a group and sell or want to sell online, do anything you want. We are giving ownership into the hands of the farmers. We are removing confusions," the PM said.
"Today, every farmer knows where he will get the best price for his farm produce. With these farm reforms, farmers can sell their produce to anyone anywhere. What is wrong if the farmers are being benefitted?" Modi asked.
The PM also slammed the Opposition for misleading farmers, spreading misinformation on the new agriculture laws and destroying the economic policy (arth neeti) in the name of farmers.
"Mamata Banerjee has problems in implementing PM KISAN in West Bengal. But, she joins hands in Punjab with the same people she fights in West Bengal. Do the citizens not know about this game? Those who are in Opposition are quiet on this. Why are they silent?" PM Modi asked.
The Prime Minister said that Opposition parties are exposed in front of the country.
"Those rejected by the electorate are now indulging in event management for publicity. The country has seen these people. They are exposed in front of the country. The party which does not say anything about injustice to farmers in West Bengal are busy creating problems for people of Delhi and destroying the economy (arth neeti) in the name of farmers," he said.
Earlier in the day, PM Modi released over Rs 18,000 crore to more than nine crore farmers under 'Pradhan Mantri Kisan Samman Nidhi' scheme. 
Under the PM-KISAN Scheme, a financial benefit of Rs 6,000 per year is provided to the eligible beneficiary farmers, payable in three equal 4-monthly installments of Rs 2000 each through direct benefit transfer.