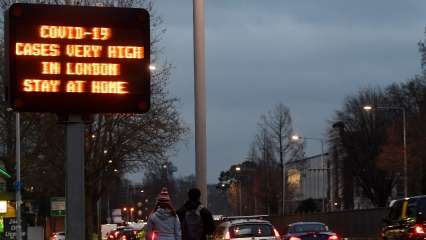 The new strain of coronavirus that has been reported in the United Kingdom (UK) is more contagious and it is likely to cause more hospitalisations and deaths next year, says a new study.
According to a study by the Centre for Mathematical Modelling of Infectious Diseases at the London School of Hygiene and Tropical Medicine, the new variant of coronavirus has a 56 per cent higher rate of transmission than other strains.
The study does not show clear evidence of whether the new variant results in more or less severe disease.
The new study also said that measures taken by the UK such as a national lockdown in November were not likely to reduce the reproduction number of the virus to less than one unless they closed the schools and universities too. The reproduction number refers to the estimated number of new infections that stem from a single cause.
The UK government earlier said that the new variant of coronavirus appeared to be 70 per cent more transmissible than the other identified strains of the virus.
Patrick Vallance, who is the country's chief scientific adviser, on December 19 said that the new variant of coronavirus had as many as two dozen mutations that might affect the proteins of the virus.
Recently, there have been concerns that the treatments and the vaccines being used now may turn out to be less effective against this new strain of coronavirus.
The European health regulator though said that the variant was probably not too different from the previous strains to escape the effects of the vaccines produced by Pfizer Inc. and BioNTech SE.
As for the vaccines, the study suggested that the vaccination may need to be sped up to control the spread of the new strain of coronavirus. It may be required to go up to a rate of two million people per week, which is more than the current rate of 200,000 people per week.