'AK vs AK'
Cast: Anil Kapoor, Anurag Kashyap, Yogita Bihani, Sonam K Ahuja, Harshvardhan Kapoor and others
Director: Vikramaditya Motwane
Duration: One hour 50 minutes
Where to Watch: Netflix
Critics' Rating: 2.5/5
'AK vs AK' Story:
After a public spat with a movie star (Anil Kapoor), a disgraced director (Anurag Kashyap) retaliates by kidnapping the actor's daughter (Sonam K Ahuja), filming the search for her in real-time.
'AK vs AK' Review:
A film talking about movies and celebrities has been an interesting formula tried and tested by several filmmakers. It goes back to the time when Guru Dutt directed and starred in Kaagaz Ke Phool released in the year 1959. It showed a greater purpose of a fallen filmmaker trying to revive his own career by launching a new actor. But in AK vs AK, we see a filmmaker played by Anurag Kashyap who is touted to be a failed director (not-so-true) taking revenge from an established actor played by Anil Kapoor by kidnapping his daughter Sonam Kapoor. The film is fiction with dust of harsh truth about their lives in it. No characters have been created and one can call it a film based in reality but it's beautifully fictitious.
Talking about the reality, many years back Anurag was set to direct Anil in the film Allwyn Kalicharan back in 2003 which never got made. While attending a film festival, Anil asks Anurag to make a film with him after their first collaboration didn't witness broad daylight. But after nearly two decades, both are in different spaces of life and are not ready to budge their ego for an epic collaboration.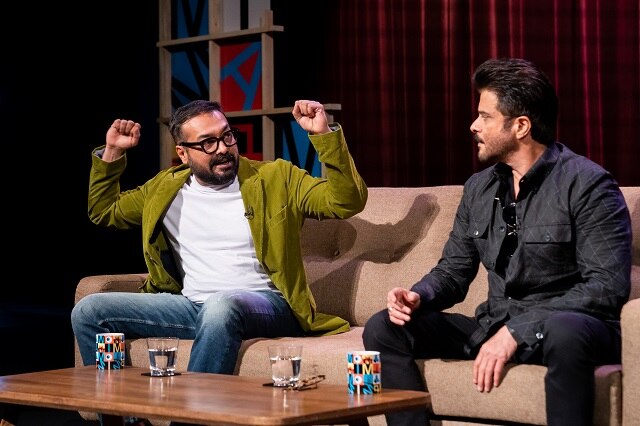 Thus leading to a vengeful act that takes place on Anil Kapoor's birthday that is December 24. The film has several bizarre moments making it questionable yet acceptable. A fight sequence at Anil's house between Anurag and him could have been trimmed and made it crispier. Harshvardhan Kapoor who showed his wild cinephile side had an interesting special cameo that will leave you in splits.
AK vs AK goes the satirical way and can make you wonder why is it just stuck in a loop. Until the last half an hour of the film, we just see bylanes of Mumbai going from Goregaon to Grant Road to Versova during the late-night hours. 
The interesting thing about AK vs AK, how they got the one-woman crew played by Yogita Bihani for the film directing the reality film.
Talking about the performances, Anil Kapoor is Anil Kapoor, the man just gets better with age in every way. Be it look or with his performances. It's a treat to watch him showing his rough side with a tensed and soft-hearted father. Motwane managed to ooze out Anil's narcissism amazingly for the screen. Despite the dilemma in his life, he stays a people pleaser and does not let his personal life affect his professional and the brand Anil Kapoor.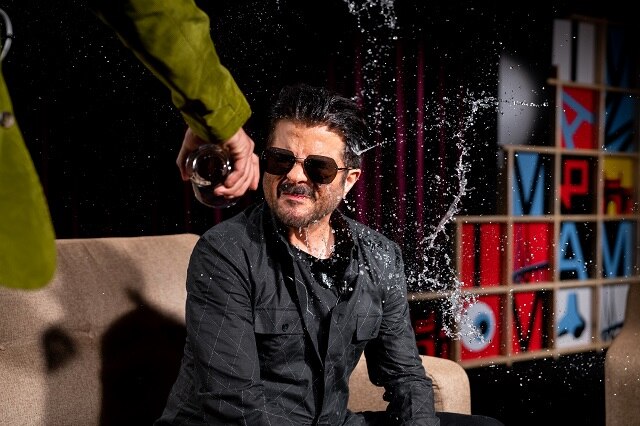 Talking about Anurag Kashyap, we have seen him in different shades in movies and here his unapologetic and maniac side is too hard to handle. One can wonder how can someone go to this extreme level for vengeance. Anurag's upfront nature which we see in real life and social media has blended well in AK vs AK. But we get to see his vulnerable side too which is equally upfront and unfiltered. 
Vikramaditya Motwane showed who the real Anil Kapoor and Anurag Kashyap are as people have seen in the media. The film feels too real when it comes to their characteristics but not as the plot. 
We have seen a cat-and-mouse chase of a superstar in FAN which was truly unbelievable. The same goes for AK vs AK, something which might not happen in the bizarre world.
'AK vs AK' verdict:
Watch AK vs AK for the character build-up of Anil Kapoor and Anurag Kashyap done brilliantly by them as well as the director Vikramaditya Motwane but not for the bizarre plot (uh-oh!).