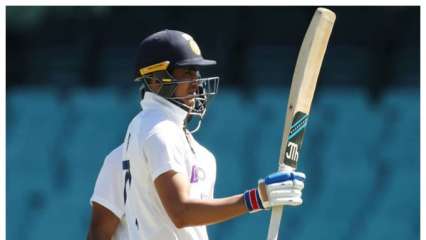 The Indian cricket team arrived in Melbourne low on confidence after being dismantled for 36 in the second innings in Adelaide last week. In addition, the Indian cricket team will be without Virat Kohli and Mohammed Shami. Virat Kohli is on paternity leave and will not play the remaining three Tests while Mohammed Shami has been ruled out of the series after fracturing his arm following a blow by a Pat Cummins bouncer. In the Boxing Day Test, Ajinkya Rahane will head the team and there will be changes galore in the line-up as they look to cover up the injury and unavailability of Mohammed Shami and Virat Kohli.
There are also question marks on the form of Prithvi Shaw. In the Adelaide Test, Prithvi Shaw was dismissed for 0 and 4 while in the warm-up games, he failed to deliver. Ahead of the MCG Test on December 26, here is the ideal batting and bowling line-up for Indian cricket team as they look to bounce back in the four-Test series against Australia.
Batting order – KL Rahul to open, get Gill and Pant
With Prithvi Shaw not in form and with Virat Kohli absent, the Indian batting order will undergo some changes. The ideal situation would be to get KL Rahul to open the batting with Mayank Agarwal. KL Rahul has been in fine form in 2020, scoring 670 runs in IPL 2020 and also hitting fifties in the ODI and T20I series against Australia. Although Rahul failed in the previous tour of Australia, it must be remembered that KL Rahul averages 44 as an opener in Tests.
Cheteshwar Pujara is an assured No.3 while Shubman Gill will make his debut at Melbourne. Making Shubman Gill bat at No.4 makes sense as he can provide solidity to the middle order. Gill has also had success as an opener but his lack of experience at the highest level makes him vulnerable. Ajinkya Rahane and Hanuma Vihari are at No.5 and No.6 but India can pull off a 2018/19 surprise by having Vihari open the innings and just ensuring he survives the period of the new ball. Rishabh Pant is an attacking option as a keeper and it makes sense to get depth in the batting.
Bowling order – Saini or Siraj?
With Mohammed Shami absent, Jasprit Bumrah and Umesh Yadav have a big workload for the remainder of the series. Who will India get in place of Shami? The favorite at this stage is Mohammed Siraj as he performed well in the warm-up games against Australia A. There is also a question mark on whether R Ashwin will keep his place as Ravindra Jadeja has recovered from injury and was seen practicing in the nets with intent ahead of the Melbourne Test. If India want to make their batting really deep, they can include Ravindra Jadeja but with R Ashwin having success against Steve Smith in Adelaide, India might not want to play two spinners on a Melbourne deck that has traditionally gotten slower in the last couple of years.
India playing 11 prediction
KL Rahul, Mayank Agarwal, Cheteshwar Pujara, Shubman Gill, Ajinkya Rahane (captain), Hanuma Vihari, Rishabh Pant (wk), R Ashwin, Mohammed Siraj, Umesh Yadav, Jasprit Bumrah