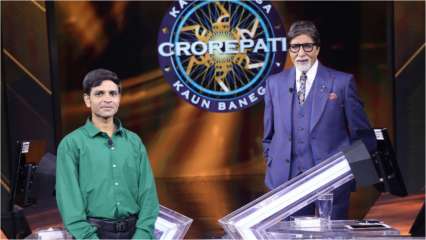 On Wednesday, popular quiz game show 'Kaun Banega Crorepati' season 12 (KBC 12) began with roll-over contestant Shivam Rajput who hailed from Uttar Pradesh's Kanpur.
Shivam took home prize money of Rs 50 lakh after he decided to quit the show on the Rs 1 crore question that he did not know the answer to. 
A clerk at UP Power Corporation, Shivam's dedication towards his work and parents impressed host, megastar Amitabh Bachchan who also lauded the contestant's gameplay and general knowledge.
As someone who aspired to pursue a career in cricket, but was in some ways forced to give it up due to family's financial hardships, Shivam took up a job to sustain the family that wasn't of much interest to him, but he nonetheless mentioned that he gives his hundred per cent to. 
As revealed by Shivam during the show, with the amount of prize money that he wins on the show, he wishes to give his parents a decent way of life. 
The Rs 1 crore question that Shivam did not have the answer to and consequently decided to quit the show to walk home with Rs 50 lakh was:
Q. Who is credit for coining the term "Meghalaya"?
The options were: 
A. Bankim Chandra Chatterjee
B. Shiba Prasad Chatterjee
C. Radhanath Sikdar
D. Dorothy Middleton
The right answer to the question was: B. Shiba Prasad Chatterjee
The Rs 50 lakh question that Shivam gave the right answer to with the help of a lifeline 'expert's advice' was:
Q. Which legendary Urdu poet is fondly referred to as 'Khuda e Sukhan' or 'God of Poetry'?
The options were:
A. Faiz Ahmed Faiz
B. Mirza Ghalib
C. Mir Taqi Mir
D. Bashir Badr
The right answer was: C. Mir Taqi Mir
Earlier on the show, several contestants reached the point of being posed with the Rs 1 crore question by host Amitabh Bachchan, however, until now only three contestants have managed to answer it correctly and become crorepati's on the show. 
On November 11, 2020, Nazia Nasim became the first crorepati on the show. Thereafter, IPS officer Mohita Sharma and Anupa Das won Rs 1 crore each and created history on the show.