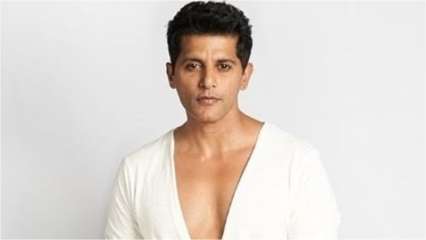 Television actor Karanvir Bohra, who was blessed with a baby girl yet again on December 21, says that after the arrival of his baby girl, the 'holy trinity' is now complete. 
A believer in the Trinity — Brahma-Vishnu-Mahesh and Laxmi-Saraswati-Parvati — Karanvir in his recent interview expressed that he is over the moon and his happiness knows no bound after he welcomed his little bundle into this world with his wife, actor Teejay Sidhu in Canada.
Speaking with Hindustan Times, Karanvir said, "My happiness has no bounds. Having three girls is something I would have just dreamt of. Even if I would have asked for something else, it wouldn't have happened. Three girls, that is completing the holy trinity."
Earlier, on the arrival of his baby girl, Karanvir had told SpotboyE, "I've become Charlie, now that I've got three angels. Charlie's Angels, Laxmi Sarawsati and Parvati." 
Karanvir and Teejay, who tied the knot in 2006, are already parents to four-year-old twin girls Raya Bella Bohra and Vienna Bohra. 
Opening up on how his twins are reacting to the arrival of the newborn, Karanvir told Hindustan Time, "The whole thing is that it's not just one baby, there are three babies, the other two shouldn't feel left out, that mom and dad are giving attention to the newborn, they should get their love also. An addition should be an addition to their life also, they shouldn't feel excluded. Both these girls have taken over her, and when she cries, they scream out loud 'the baby's crying, get the milk ready!" 
On reports and speculations by social media users that he and his wife were trying for a baby boy, Karnavir averred, "I have seen comments, people are thinking we were trying for a boy. As I had said earlier in my post, it doesn't matter if it's a boy or a girl, it's very important to have a healthy child. Specifically, in today's time and age, we shouldn't be giving so much importance to a boy or a girl because a baby is a blessing." 
Revealing that they still haven't settled on a name for the newborn, Karanvir said that right now they are just calling the little one with adorable names like cuties, sweetheart etc.
As per reports Karanvir is expected to return to India soon. His wife Teejay and the newborn will remain in Canada for a few months before they finally return home to India.