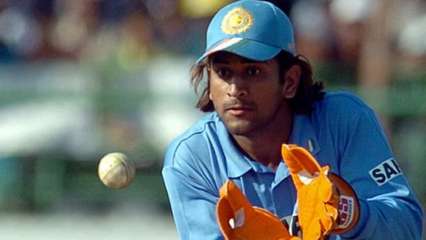 MS Dhoni made his international debut during an ODI against Bangladesh on December 23, 2004. His arrival was greeted with excitement in the Indian cricketing circles. MS Dhoni had stunned the world with his exhibition of clean hitting for India A in the tri-series in Kenya as well as in the series in Zimbabwe in 2004. His magnificent batting captured the eye of then skipper Sourav Ganguly and he was included in the Indian cricket team for the ODI series against Bangladesh in 2004. Before MS Dhoni, it was considered a bonus that wicketkeeper batsman in India could bat and attack the opposition. However, MS Dhoni's India debut did not start off well.
Bangladesh chose to bowl against India in Chattogram and they lost their skipper Sourav Ganguly for 0. Rahul Dravid and Mohammad Kaif stitched a 126-run stand with both batsmen reaching fifties. However, India lost Dravid for 53 and Sridharan Sriram in quick succession. MS Dhoni came to bat in the 42nd over with the score 180/5. Facing left-arm spinner Mohammad Rafique, MS Dhoni turned his first ball to square leg and set off for a quick single. However, Mohammad Kaif refused and MS Dhoni turned back. Tapash Baisya fired the throw to keeper Khaled Mashud and MS Dhoni was run-out for a golden duck on debut.
Bittersweet debut to legend
India managed to win the match by 11 runs thanks to some good bowling from Sridharan Sriram who took 3/43. However, it was not a good start for MS Dhoni. Undeterred, the Ranchi lad smashed a century in his fifth ODI against Pakistan in Vizag and that set the tone for his greatness. His big hits and a new helicopter shot saw him dazzle and captivate the cricket world. After his 148, he followed it up with a brilliant 183 against Sri Lanka in Jaipur that sealed his audacity.
MS Dhoni took over as the captain of the Indian cricket team and he went on to change their fortunes forever. MS Dhoni became the only captain in cricket history to win all three major ICC trophies and in his time, India also scaled the No.1 ranking in Tests. India continued to do well with MS Dhoni in the team but in his final ODI, there was a tragic repetition of karma.
In the semi-final against New Zealand in Old Trafford, MS Dhoni looked to get India to the final as he scored a fifty. However, when he was looking to take a couple in the 49th over of the chase, MS Dhoni was run-out by inches as he fell short and India were eliminated from the tournament. Thus, MS Dhoni's international career began with a run-out and ended with a run-out.