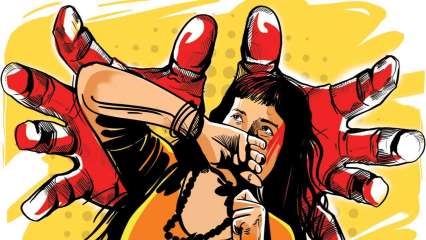 The Delhi Police has taken four persons, including a minor after a 14-year-old girl alleged that she was gang-raped by them in South Delhi. The incident allegedly took place in Greater Kailash on Saturday.
The victim told the police that she had been working as a domestic help in Greater Kailash 1. According to the police, the girl met the juvenile, who was also working there and was befriended by him. However, he had left work one month ago.
According to the victim, the 17-year-old juvenile, who hails from Uttar Pradesh's Fatehpur district, called her at his friend's place of work in Greater Kailash on Saturday. Three more persons were also present there and he allegedly raped her with their help, she told the police.
DCP, South, Atul Thakur said that a case under the relevant sections of the Indian Penal Code and the POCSO Act has been registered against all accused, including the juvenile.
"Three accused identified as Shivam, Hari Shankar and Mangesh have been arrested. The JCL (juvenile in conflict with the law) has also been apprehended," the officer added.
The police received the call about the incident on Sunday and apprehended all the accused. An investigation is underway.
In October, the Delhi Police had said that it registered a 28% fall in the number of rape cases this year. It informed that as many as 1,241 rape cases were reported till September 30 compared to 1,723 cases in the same period last year.
Notably, the gruesome gangrape and murder or a 23-year-old paramedic in a moving bus in 2012 had triggered protests across the country, forcing the government to bring stricter laws to tackle crimes against women.