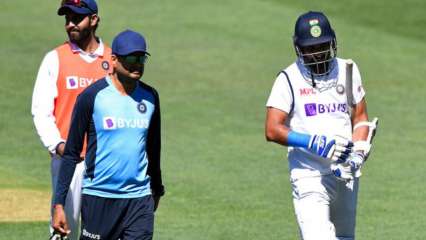 After the humiliation of being bowled out for 36 in the Adelaide Test, the Indian cricket team's woes have deepened with reports emerging that Mohammed Shami has been ruled out of the remainder of the series due to a fractured arm. Mohammed Shami was hit on the arm when he tried to duck under a Pat Cummins bouncer on day 3 but the ball hit him flush on the arm and he had to retire hurt. This comes after Virat Kohli will be left unavailable for the remainder of the series as he will be on paternity leave as he waits to become a father in January 2021.
India lost the match by 36 runs and they head into the Boxing Day Test in Melbourne with plenty of selection headaches on December 26. When Virat Kohli was asked about the situation regarding Mohammed Shami in the post-match presentation. "No news on Shami, he's going for a scan now. Was in a lot of pain, couldn't even lift his arm. We'll probably know in the evening what happens," Virat Kohli said. The injury to Mohammed Shami might possibly result in Navdeep Saini making his debut in the Boxing Day Test.
Horror show for India
The third day of the Pink Ball Test between India and Australia saw the Indian cricket team ahead by 62 runs but in an inspired spell of fast bowling from Pat Cummins and Josh Halzewood, India were bowled out for 36, their lowest total in their 88-year Test history. Hazlewood picked up a five-wicket haul for the eighth time and he became the 17th Australian pacer to get to 200 Test wickets. Pat Cummins got the massive wickets of Virat Kohli and Cheteshwar Pujara cheaply to go to 150 wickets and end with four wickets. Australia won the match by eight wickets to continue their 100 percent record in the Pink Ball Test.
In the post-match presentation, Virat Kohli expressed his hurt and shock at the performance. "It's very hard to put those feeling into words. We had a lead of 60-odd when we arrived. And then just collapsed. Played two days of good cricket to get in a position and then just lose it in an hour. Really hurts. Probably didn't have enough intent in the batting today. It's something that needs to be reflected and learnt from," Virat Kohli said.
Did the conditions change dramatically as the Test match progressed? In the first innings, India dug in and managed to put up the highest score of the match with some solid contributions from Ajinkya Rahane, Cheteshwar Pujara and Virat Kohli who scored his 23rd fifty. However, Virat Kohli said the lack of similar intent when they were ahead hurt them big time.