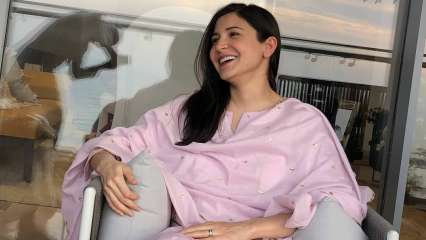 India's loss by eight wickets to the Australian side has garnered flak and outrage from various segments of people as the visitors came down crashing on the third day of the first test match in Adelaide.
Team India folded for 36 – their lowest ever total in the history of Test cricket – as they could set a target of only 90 runs for the hosts, which they chased down in just 21 overs.
However, there was someone else as well outside the team's playing members, who received flak and outrage of fans yet again. Actor and wife of skipper Virat Kohli, Anushka Sharma was on the receiving end of another day of hate after Kohli got out cheaply and team lost so badly.
Unfortunately, this has become a regular feature after India's losses as the fans lost their cool again on Saturday and vent their frustration out on Anushka.
Here are some of the reactions:
"Lads, Anushka's going in labor, let's make it quick yeah?" pic.twitter.com/hMUty0V9Ip

— notrophyszn (@ElGujju) December 19, 2020
Virat kohli must b Sacked his priorities r different&not cricket

—Sunil Gavaskar Sir denied paternity leave for birth of his child —MS Dhoni denied paternity leave for birth of his child

Ask colie 2 home stay wid Anushka,stay home-stay safe else aussie will bash u#INDvsAUSTest

— itsAKASH—-Shudh desi Human (@AkashSushiFORVR) December 19, 2020
Anushka humne RCB ka lowest score ka record tod diya finally#AUSvINDtest pic.twitter.com/4vOibtOYK5

— Akhandbarbaadi (@akhandbarbaadi) December 19, 2020
Everytime when India performs bad Anushka sharma be like#AUSvIND pic.twitter.com/4Y4fnX1FLa

— Er.JETHA LAL  || Nargish  Stan Account (@_Babuchak_) December 19, 2020
Mera piya ghar aaya o ram ji ~Anushka#AUSvIND pic.twitter.com/POViwuc8Wt

— Circuit Expert (@Being_circuit) December 19, 2020
Team India scored lowest. Le anushka: pic.twitter.com/bXeEnFchhk

— dateFreeindia (@dateFreeindia) December 19, 2020
Nashedi Shastri k liye kumble ko coach se hatwa diya

Team selection meeting m biwi ka pallu pakad k aata h.

13 saal se RCB choker h. India team kutto ki tarah haar rahi par humare kohli ki koi galti nahi. He is the best captain. Jai Anushka. https://t.co/REjcaipi0K

— Robinhood (@WTF_Raggy) December 19, 2020
Anushka Is waiting for kohli

Kohli Can't let her wait

perfect husband 

—  (@ShyBloke_) December 19, 2020
Anushka trending again. Meanwhile Anushka in labor : pic.twitter.com/XpJTjmarxj

— fcbsagarrrr• (@sagarssshinde) December 19, 2020
Anushka calling virat wishing him good luck but says i think it's coming soon.but where are you? Le virat. pic.twitter.com/BCXX82O8az

— MAGNIFICO (@UTDLakshya) December 19, 2020