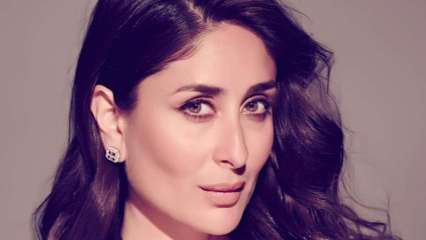 It is a well-known fact that actresses Kareena Kapoor Khan and Karisma Kapoor have been single-handedly brought up by their mother Babita after the latter separated from Randhir Kapoor in 1987 when Bebo was just about seven-years-old. 
Reflecting on the same in a recent interview with MojoStory, Kareena spoke about her parents' separation, her mother Babita being the backbone for her elder sister and her, also adding that she adores her father Randhir and loves and respects him a lot.
She also added that while her parents decide to go in separate ways they would often come together to make decisions about their kids. Kareena added that the two share a lovely relationship and are friends. She also said that while her mother was the driving force, her father Randhir has been silently there for them.
In a video interaction with MojoStory, Kareena said, "Yes, my mother is my best friend but I adore my father because I respect and love him a lot. He is in a strange way not very in your face because he is somebody who's always also chosen to be at the back. He's not somebody who is commanding the attention and wants that. He's silently always there for us and I know it. I mean my parents have a lovely relationship because sometimes two people realise that their lives aren't exactly going the way they planned so, it's better you know we kind of don't stay together but we can still like you know be friends and stay in touch and still take decisions sometimes about the kids."
She added, "It's not necessary that they have to possibly be you know staying under the same roof or being there 24*7 together so I think both Karisma and me understood that at a very early age that this kind of a relationship can exist as well and it has existed for almost 35 years with my parents and I see them in times when they need to come together, they are always together. But they sometimes, obviously, prefer to just you know have their day-to-day lives separately, which is wonderful."
Speaking about the kind of influence her mother has had on her life, Kareena said, "My mother is a driving force, she has been there like all the time for me and Lolo. She's the sun behind everything when she rises, we rise. If she falls, we kind of fall. She is our backbone because that's just the way we been three women living together under one particular roof. And I can't imagine anything in life without her decisions, without her but also have to say my parents really move with the times, they have kept up with everything. They give us our space, they allow us our decisions. It's not like she gives her opinion and she will be like this is what I think. She is very clear like this is the life you have chosen, whatever you wish. I kind of love the fact that my parents have evolved with their children."
Earlier in a 2017 media interaction at Babita's 70th birthday party, Randhir revealed why the two haven't divorced each other. He was quoted saying, "Divorce for what? Why should we head for divorce? I don't intend to get married again, and nor does she. She found that I was a terrible man who drank a lot and came home late, which was something she didn't like. And I didn't want to live the way she wanted, and she couldn't accept me as I am, though it was a love marriage. So it's okay. We had two lovely children to look after. She brought them up in the best way and they have excelled in their career. What else I could have asked for as a father?"
On being asked if Babita still has a special place in his heart, Randhir said, "She's a crucial part of my life. She has given me two lovely kids. We are all grown-up people, and we preferred to stay separately, [but] we are not enemies."
It's been over three decades of Randhir and Babita's separation, however, the two remained legally married till date ad share extremely cordial relations where they come together for family get-togethers and go on holidays with their celebrity children.