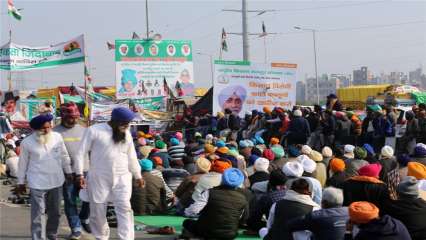 The farmers protest in and around of the borders of National Capital Territory of Delhi are heading into their 21st day. The farmers are protesting against the recently enacted Farmers' Produce Trade and Commerce (Promotion and Facilitation) Act, 2020; Farmers (Empowerment and Protection) Agreement on Price Assurance and Farm Services Act, 2020; and Essential Commodities (Amendment) Act, 2020.
Supreme Court to hear plea to remove farmers and protestors from the border
The Supreme Court on Wednesday (December 16) will hear a petition seeking removal of the farmers protesting against the Centre's farm laws from Delhi borders. The farmers have been protesting at Singhu and other border points of Delhi since November 26 seeking the repeal of the three laws passed in September.
The petition has been filed by law student Rishabh Sharma and will be heard by a bench of Chief Justice SA Bobde, Justice AS Bopanna and Justice V Ramasubramanian. Sharma has said in his petition that commuters are facing hardships due to the road blockades and the gatherings might lead to an increase in the number of Covid-19 cases.
Agriculture minister to address Kisan sammelan
Union Agricultural Minister Narendra Singh Tomar will address a 'kisan sammelan' in Gwalior on Wednesday. The rally is part of the BJP`s reach out to farmers amid continuing protest on Delhi border by farmer unions against three farm laws enacted by the government in September. BJP leader Jyotiraditya Scindia will also be present in the programme.
Division in BKU faction
The Bharatiya Kisan Union (BKU), which has been at the forefront of the farmers` agitation against the government, seems to have suffered a split on Tuesday with its Kisan faction's national and regional post holders from Uttar Pradesh going ahead and meeting Union Agriculture Minister Narendra Singh Tomar to give its thumbs up to the contentious farm laws.
'Will make Government repeal laws', says farmers body
Some farmer leaders said they will 'make' government repeal these legislations, and asserted that their fight has reached a stage where they are 'determined' to win it no matter what. They said that they will completely block the Chilla Border between Delhi and Noida from Wednesday to press for their demands, adding that farmer unions are not running away from negotiation, but the government has to pay heed to their demands and come forward with concrete proposals.
Addressing a press conference at the Singhu Border, farmer leader Jagjeet Singh Dallewal said, "The government is saying 'we won't repeal these laws', we are saying we will make you do it. The fight has reached a stage where we are determined to win no matter what," he said.
Agencies scurry to find out true identity of 'soldier' at protest
The presence of a man in Army uniform participating in the farmers' protest outside the Deputy Commissioner's office in Bathinda has now got the intelligence agencies trying to ascertain his true identity and confirm if he is a serving soldier or an imposter.
In photographs, printed in the newspapers and shared multiple times on social media, the Sikh man is seen holding a placard which says, "My father is a farmer. If he is a terrorist then I am also a terrorist". He is wearing a combat pattern uniform with a jacket and a camouflaged scarf wrapped around his face. His attire appears to be the standard Army uniform, which also displays a name tag on the jacket.