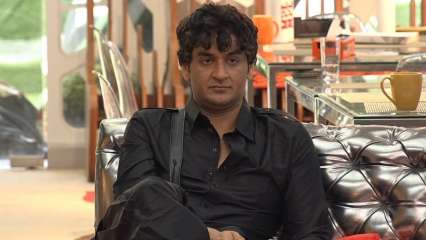 Vikas Gupta was thrown out of the 'Bigg Boss 14′ house for losing his temper on Arshi Khan. The producer, who was a contestant on the show, was constantly being poked by Arshi Khan. When she tried to bring Vikas' mother into the matter, he lost his calm.
Despite giving Arshi warnings and maintaining silence, Arshi did not stop her poking. After one point, Vikas lost his calm and threw Arshi in the pool. Aly Goni, Kashmera Shah and other witnesses of the incident were left in shock.
In any case, the act did not work in Vikas' favour. Rahul Mahajan and Eijaz Khan were heard being vocal about how Vikas planned to push Arshi into the pool, knowing her fear of water. Gupta was also heard confessing he did it out of spite, but in the moment when there were others around her.
Since the 'violent act' went against the rules of 'Bigg Boss', Vikas was thrown out of the show. While leaving, Vikas asked people to support one another. He said that after he came out about being bisexual, he had literally no one by his side and would cry alone in his house.
The news about Vikas being evicted made rounds of the internet since Sunday night.
During the episode (which was also shown in one of 'Bigg Boss 14' promos) Arshi had threatened Vikas that she would talk about his parents, especially the producer's relationship with his mother. After she did not stop, Vikas had asked her to do what she likes. He gave Arshi a push while leaving from the garden area, which caused a fight between the two.
Kashmera Shah tried to break the fight and succeeded to an extent. Vikas was then heard telling Jasmin Bhasin that Arshi knew about his broken relationship with his mother and thus, is blackmailing him. Vikas also blackmailed Arshi that he would talk about her relationship with her father.
After the constant poking, Vikas went near Arshi, who was standing at the corner of the pool, and gave her a push. Before anyone could realize, Arshi was in the pool, waiting to come out. The behaviour by Vikas had left all contestants in shock. After realizing his mistake, Vikas broke down and even apologized to Arshi for pushing her. Rakhi, Rahul Mahajan and Jasmin explained Vikas that he should apologize for the behaviour, and despite hesitation, he did apologize to Arshi.
Both Arshi and Vikas were heard stating that they do not want to be in the house anymore and do not care if they are thrown out. Manu Punjabi, who is the current captain of the house, was also in favour of one of them being thrown out, since the behaviour was bound to repeat if they stayed together.