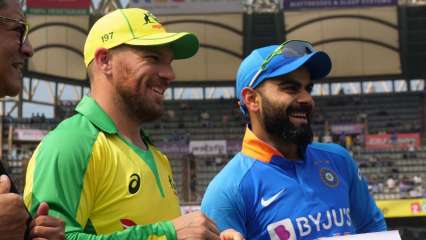 Australia's limited-overs skipper Aaron Finch has warned Tim Paine and co against riling the Indian skipper Virat Kohli in the first Test starting Thursday.
Finch, who has played with and against him said that evn though Kohli is more relaxed on the field than most people think, but he said that Australia wouldn't want him to see his other side if the banter gets heated.
Since, Kohli will be playing only the first test, after which he heads home on a paternity leave, Finch said that he will be extra charged up against a strong Australian side at home.
Speaking to Sydney Morning Herald, Finch said, "I think there will be times when things boil over and when you have got strong characters on either team that's going to come to a head at some point.
"(But) there is a fine balance there, isn't there? You don't want him (Kohli) to get up and about in the contest. When he does, he can be ruthless on the opposition."
Reaccounts his experience with Virat at RCB
Recalling his experience playing with him at the Royal Challengers Bangalore in the IPL, Finch expressed his surprise at the amount of confidence Kohli showed in his team and the players.
"What really surprised me was how, he obviously does a lot of planning and preparation himself, and into the opposition, but he never focused more on the opposition than his own team," he said.
"At Bangalore, he was always confident in the XI players that were picked and knew that if you played well, you had every chance of winning. I was really surprised by how confident he was in everyone, he had a lot of time for everyone. He was great around the group, a lot more relaxed."