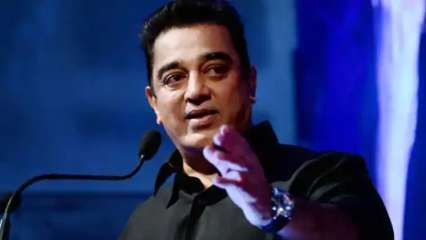 South superstar Kamal Haasan on Monday, December 14 confirmed about contesting the 2021 Tamil Nadu assembly elections. He, however, did not mention the constituency and said to make an announcement in this regard at a later stage.
According to Timesnow, the actor turned politician said, "I will definitely contest the upcoming elections, I will announce later about the constituency from which I will be contesting." 
Kamal Haasan had floated his party Makkal Needhi Maiam (MNM) on February 21, 2018, in Madurai. His party is now set to contest the Tamil Nadu election in April/May 2021.
Meanwhile, MNM Chief Haasan on Sunday, December 13 started campaigning for his party. The four-day-long campaign for elections will cover Madurai, Theni, Dindigul, Virudhunagar, Tirunelveli, Tuticorin and Kanniyakumari districts.
Haasan has been strongly advocating for making Madurai the second capital of Tamil Nadu. While addressing a gathering during his campaign in Madurai on Sunday, Haasan said, "It was the dream of Purachithalaivar MGR to establish Madurai as the second capital of Tamil Nadu. We will take forward this dream. If MNM comes to power, Madurai will be made the second capital of Tamil Nadu."  
"The MNM is politically people-centred. MNM youth should go house to house and meet people. The time has come for me to act, and the rule is ours and tomorrow is ours. The eradication of corruption cannot be done by the individual, with the cooperation of the people surely corruption can be eradicated. We will eradicate corruption," he further added.
In 2019, the MNM had contested the Lok Sabha elections alone but failed to register an impact.