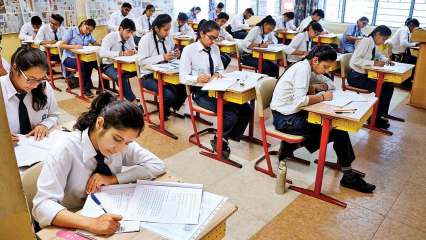 The Central Board of Secondary Education(CBSE) Examination Controller Dr. Sanyam Bhardwaj recently held a meeting with select group of principals of CBSE-affiliated schools to clarify many doubts related to the upcoming Board Exams in 2021.
The official confirmed that the CBSE Board 2021 practical papers would be conducted only after the schools reopen. As for the exam dates, he shared that the CBSE date sheet 2021 would be released at a later date.
The minutes of the meetings were also circulated by the board's regional centres with the various coordinators. Among other important points discussed in the meeting were face that there will be no further reduction in syllabus for the Class 10th and 12th Board Exams. The CBSE Board Exam 2021 will not be conducted at self-centres or 'own schools' – the board would instead increase significantly the number of Exam Centres. No more than 12 students would be allowed to be seated in a class for the board exam 2021.
Three sets of question papers with same difficulty level will be supplied. In case any set is found to be of a higher difficulty level, moderation will be considered.
The following are the other important points discussed in the meeting…
1. Paper pattern and typology for the question papers would remain the same as depicted in the # Typology of question paper will be the same as the CBSE sample papers now available on cbseacademic.nic.in
2. The practical exams will be conducted at the schools as usual and external examiner would be present.
3. There will be no change in marking scheme for Class 10. It would remain the same as 80+ 20 where 80 is for external or theory paper and 20 for the internal evaluation.
4. The schools can assess the co-scholastic areas. In regards to administrative work, CBSE would be releasing new software for the schools soon to manage the exams. The new software would have separate login ID for schools as well as students.
The official also urged everyone to only refer to the official website and communication channels when it comes to information regarding the upcoming board examinations.