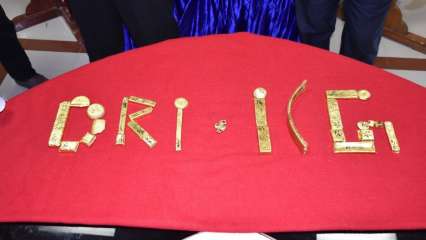 Officials from the Indian Coast Guard (ICG) and Directorate of Revenue Intelligence (DRI) seized approximately nine kgs of gold, from a fishing vessel in the Gulf of Mannar, off Tamil Nadu coast. The gold bars worth ₹4.5 Crores were concealed in a cloth bag, under the engine bay, camouflaged in the fishing boat 'Sailor'.
The two-day joint operation was carried out after DRI sources received a tip-off that gold was being smuggled into India through the sea route from Sri Lanka. The coordinated operation was launched by Coast Guard Station Mandapam and it resulted in the apprehension of five fishermen along with their boat.
Investigation revealed that the apprehended boat allegedly received the precious metal in the Gulf of Mannar and was proceeding to Marakkayar Pattinam, close to Mandapam. 
The seized gold bars along with the fishermen and boat were handed over to the DRI for further investigations. In March this year, the Indian Coast Guard had recovered 15 Kgs of gold dumped at sea from a fishing boat near Rameshwaram Coast.