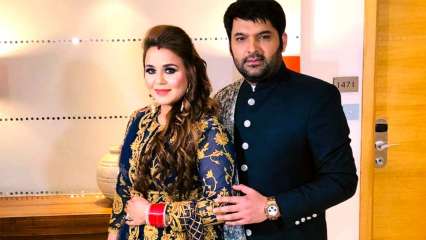 After celebrating the first birthday of their daughter Anayra, Kapil Sharma and Ginni Chatrat Sharma are making headlines yet again for completing two years of their nuptials. 
The comedian-actor, who tied the knot with Ginni on December 12, 2018, in Jalandhar, followed by Anand Karaj ceremony the next day, is celebrating his second marriage anniversary on Saturday. 
But, did you know that Ginni's father had initially rejected Kapil Sharma? Are you aware of how love blossomed between the two? 
Well, in an earlier interview with Times of India, Kapil had revealed details of how the two came together after years of knowing each other since their college days. 
The love story began in 2005 when Kapil met Ginni at an audition in her college.
"She (Ginni) studied at HMV College (Jalandhar). I was a scholarship holder, as I was a national winner in theatre. I was a student at APJ College and in order to make some pocket money, I started directing plays. I went to audition students at her college and that's how we met in 2005," Kapil said in his interview with Times of India.
Ginni, 19 back then, had gone for the gidda auditions on the insistence of her teacher. 
Consequently, Ginni, who according to an impressed Kapil was really good, was asked by the comedian to audition other girls for him.  
Kapil added, "As we started the rehearsals, she started bringing food for me. Back then, I thought that she was doing it out of respect."
Kapil then elaborated and said, "My friend told me that Ginni likes me, but I rubbished him. One day, I directly asked Ginni, 'Tu mujhe like toh nahi karti?' and she denied. Later, at a youth festival, I introduced her to my mother as one of my students. Then I came to Mumbai for the 'Laughter Challenge' audition and by then, I had also appeared on a Punjabi TV channel. Ginni was impressed with me because I was studying and working at such a young age. When I got rejected for 'Laughter Challenge', I called her and said, 'Please don't call me'. I felt that our friendship has no future, as her financial condition was better and we belonged to different castes. So, we took a break. When I got selected for Laughter Challenge after auditioning again, she called to congratulate me."
"When I started earning well, my mother took my marriage proposal to her family, which got rejected. Inke papaji ne bade pyaar se bola, 'Shut up' (laughs!). Thereafter, I got busy with work, while she pursued MBA in finance. I guess, she kept studying to avoid marriage proposals. At that time, I was settled in Mumbai, and so much was happening in my life. I then realised ki itna kuchh hua hai, but isne kabhi mujhe disturb nahi kiya. Itna patience kisi mein nahi dekha maine. Jab ye sab gadbad chal rahi thi, that's when I decided that it was the right time to marry. It was my decision because ye toh padhai kare hi jaa rahi thi (laughs!). So, on December 24, 2016, I called and told Ginni that I wanted to marry her," Kapil added.
And that's how Kapil and Ginni's love story began an the two tied the knot in 2018. A year later, The couple