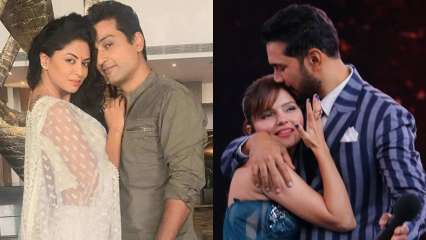 Abhinav Shukla, who was living blissfully unaware about the mudslinging happening outside the 'Bigg Boss 14' house, recently got to know about the incident where Kavita Kaushik's husband Ronnit Biswas took to Twitter to call him a drunkard.
During the latest episode of 'Bigg Boss 14', Vikas Gupta informed Abhinav about the incident. While talking to Abhinav in person, Vikas said that Ronnit Biswas, who is Kavita Kaushik's husband, called Abhinav a 'drunkard' and claimed that he sent 'sleazy messages' to Kavita Kaushik after they all shot Abhinav's short film in Kavita-Ronnit's house.
Taken aback, Abhinav took some time to process the information. He then stated that it wasn't possible for him to go out and drink during COVID-19. He then pointed out how Kavita would kill him the minute she saw him in the house. For the uninformed, Kavita was also a contestant on 'Bigg Boss 14' but chose to walk out of the house.
"It's totally untrue," stated Abhinav loud and clear. He also stated that Kavita called him a friend and gave her a hug before leaving. He called it 'a dumb thing to do' if she was going to put such a blame later on. Abhinav asked about when the incident took place, which is when Vikas shared it took place right after Kavita was out of the house. They all then thought it was a strategy.
Before leaving, Vikas asked Abhinav to only share the information with his wife Rubina. When Abhinav did that, Rubina got furious and simply said, "Then we'll file a case on them." She also asked Abhinav to talk to Aly Goni, after which they decided to wait it out before taking any action.
Rubina asked Abhinav if the relation between him and Kavita was professional or personal. Elaborating on the same, he said, "I showed her the script and it was her idea to shoot the short film in her house." Rubina then asked him not to worry and gave him a kiss on the cheek.
The couple then spoke to Aly, who said 'claim ulta pad gaya' and that media did not give attention and everybody believed it was a strategy. When Rubina asked why Aly didn't tell them first, he said that Vikas wants to ruin their game.
Still furious, Rubina said that she won't take her phone after the show is over, but sort this matter out first.
Aly later asked Vikas why would he speak and there is a small argument between the two in the dining area. Kashmera called Vikas 'Shakuni Mama' and later claimed 'he's a very bad man'.
Vikas confronted Rubina and Abhinav on the same and they said that the whole house knows anyway.
Abhinav then even asked Nikki. She told Abhinav the same thing as Aly – to not ruin his game.
Shocked and furious, Abhinav was later shown calm on the show. It is still unclear whether Abhinav and Rubina reached out to their legal team in order to sue Kavita and Ronnit for the claims.