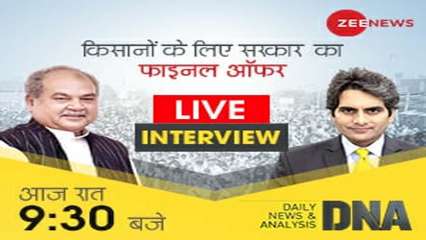 Amidst farmers' agitation entering the 16th day, special guest tonight on the shown DNA, Honourable Union Agriculture Minister Shri Narendra Singh Tomar in conversation with Zee News Editor-in-chief Sudhir Chaudhary spoke on the farm laws, ongoing protests and many other things.
In his special interview with Zee News, Agriculture Minister Shri Narendra Singh Tomar put forward his final offer for the agitating farmers.
Earlier in the day, Agriculture Minister Shri Narendra Singh Tomar said the government is sensitive towards farmers and is in discussion with them and their representatives to resolve their concerns. Tomar said, "Anti-social elements are conspiring to spoil the atmosphere of the peasant movement under the guise of farmers." 
Agriculture Minister Narendra Singh Tomar, reiterated that the government is ready to talk with the farmers and urged them to stop the agitation in the "interest of the common people". He further said the government is willing to make reforms in the laws after talks
With some farmer unions intensifying their protest against the central government over the recent agri reforms, the BJP has decided to hold nationwide programmes, including 'chaupal' in rural areas, to highlight the benefits of three farm laws. 
Party sources said events, including press conferences and public programmes, will be held in over 700 districts of the country.
The Bhartiya Kisan Union on Friday filed a petition in the Supreme Court asking it to quash three agricultural laws passed by Parliament in September as they were "illegal, arbitrary, approved in haste and will expose the farmers to corporate greed".
Two IPS officers who were leading the police force at Singhu border where hundreds of farmers have been on protest have tested positive for Covid-19, the Delhi Police said, leading to fears of the disease's spread in the crowd.
Farmers agitating for the past two weeks against the new agri-marketing laws have, meanwhile, announced that they will block railway tracks if their demands are not met by the government. Hundreds of more farmers have left Armitsar for Delhi's Kundli border on board 700 tractor trolleys.