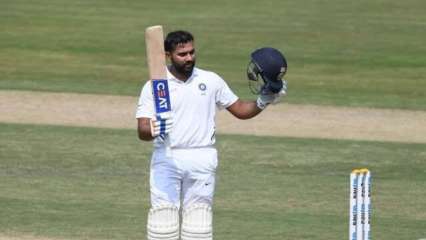 After all the confusion and drama surrounding Rohit Sharma's injury which he sustained in IPL 2020, there is some great news for Indian cricket fans. Rohit Sharma has cleared his fitness test at the National Cricket Academy (NCA) in Bangalore and he is all set to join the Indian cricket team for the remaining two Tests against Australia that will take place in Sydney and Brisbane. Rohit Sharma was left out of the tour of Australia following the injury that he sustained while playing for Mumbai Indians in their IPL 2020 clash against Kings XI Punjab. However, it is now upto the BCCI to ensure that Rohit Sharma getson the plane to Australia as soon as possible and it is upto Sourav Ganguly whether he can negotiate a reduced quarantine period for Rohit Sharma.
Before the start of the first ODI against Australia in Sydney, a visibly unhappy Virat Kohli told in the virtual press conference that there was total confusion regarding the situation with Rohit Sharma. "Before we had the selection meeting in Dubai, we had got an email two days before that, which said that he is unavailable for selection as he has picked an injury during the IPL. It mentioned there was a two-week rest and rehab period. The pros and cons and the implications of the injury has been explained to him and he understood that. And he was unavailable for selection. That was the information we got on mail before the selection meeting. After that he played in the IPL, so we all thought he would be on that flight to Australia, which he wasn't. And we had no information whatsoever on the reason on why he is not traveling with us," Virat Kohli said.
Will Rohit Sharma get to Australia?
Rohit Sharma had visited his father who was coronavirus positive after he had arrived from the UAE. With Ishant Sharma ruled out of the series, the onus was on Rohit Sharma to prove his fitness at the NCA.
However, the BCCI will now have to contend with the logistics of how they can get Rohit Sharma to Australia. International travel remains suspended but Rohit Sharma can get in one of the special flights. But, the major issue for the BCCI will be negotiating a quarantine period for Rohit Sharma. Since the Indian cricket team arrived from the UAE to Sydney, they were allowed to train because they came from one bio-bubble to the other.
During that period, there were reports which said that BCCI president Sourav Ganguly was trying to negotiate a reduced quarantine period for Rohit Sharma by making it seven days instead of 14. However, if Rohit Sharma undergoes a mandatory 14-dy quarantine period, then he might only feature in the Brisbane Test and could be racing against time to play the Sydney Test as well.
In the lead-up to the fitness test on December 11, there was plenty of drama and confusion. On the day Rohit Sharma was ruled out of the tour party, Mumbai Indians uploaded a video where he was practicing. When Sourav Ganguly said that Rohit Sharma would have to manage his hamstring injury, he played for Mumbai Indians and helped them win the IPL title for a record fifth time.