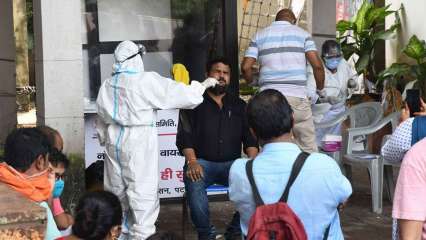 India's fresh coronavirus spike dropped to less than 30,000 on Thursday with 29,398 cases reported in the last 24 hours. Country's total COVID-19 cases have reached 97,96,770, the Union Ministry of Health and Family Welfare said on Friday.
As many as 414 new deaths reported in the last 24 hours, the toll has mounted to 1,42,186.
The total number of active cases stands at 3,63,749. Total discharged cases are at 92,90,834 with 37,528 new discharges in the last 24 hours.
Maharashtra reported 73,001 active cases, the highest in the country followed by Kerala with 59,663 active cases.
Delhi has reported 18,753 active cases, 5,72,523 recoveries, and 9,874 fatalities, according to the Union Health Ministry.
Ministry of Health and Family Welfare on Thursday said that the daily deaths due to COVID-19 have been less than 500 during the last five days.
A total of 15,16,32,223 samples were tested for COVID-19 up to December 10. Of these, 8,72,497 samples were tested yesterday, according to the Indian Council of Medical Research (ICMR). 
Meanwhile, Uttar Pradesh Chief Minister Yogi Adityanath on Thursday claimed that while a vaccine against COVID-19 was just about a month away, the infectious virus had already been contained in the state.
"We are about a month away from the COVID-19 vaccine and the state has already contained the pandemic. Developed countries like the US registered a Covid-19 death rate of about 8 per cent, but Uttar Pradesh only saw 1.04 per cent of Covid-19 deaths," Adityanath said.
He also said that COVID-19 management had received huge praise from the World Health Organisation and a research paper should be done on it.