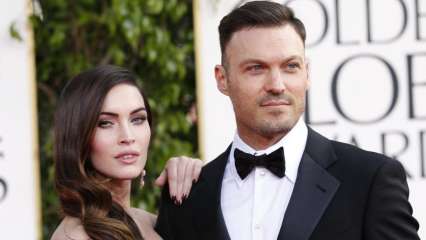 Actor Brian Austin Green is seeking joint custody of his three children with actress and estranged wife Megan Fox.
According to Green's divorce petition response, obtained by etonline.com on Monday, the actor is requesting joint physical custody of their kids Noah (8), Bodhi (6) and Journey (4).
The papers, which were filed on November 25, the same day Fox filed her divorce petition, cites irreconcilable differences as the cause, and did not request child support, but did request spousal support for himself and Fox.
Green also requested that both he and Fox pay their own legal fees and court costs. Brian's petition is similar to Megan's who also cited irreconcilable differences and requested joint physical custody. However, Fox is seeking to terminate the ability for either Green or herself to be given spousal support.
Green claims they separated in March 2020, while Fox claims they split in November 2019.
Before this, the actor filed for divorce from Brian in 2015, but in May 2016 Megan became pregnant with their third child and confirmed that she and Green had reconciled. Earlier in April 2019, Megan had officially filed to dismiss her divorce case against Brian.
Megan and Brian had also called off their four-year-long engagement in 2009 and when asked about it, she had told Us Weekly, "Marriage isn't a realistic goal for someone who is 23, that's all. I just wanna concentrate on becoming a better person before I try to commit to being someone else's wife."
While Brian had told Access Hollywood, "She was 18 when I met her, and she went through an enormous change in her life because of her career in general. So she went through the natural period of, 'I'm not sure if I'm ready to be in such a settled relationship.' I have an eight-year-old, and he was two at the time that Megan and I met. She helped me raise him, and that's a huge responsibility."