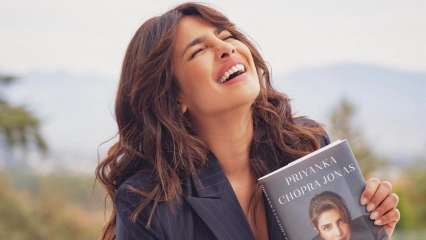 Priyanka Chopra Jonas has been sharing her excitement about her memoir Unfinished. The actor announced the book back in 2018, and now finally it will hit the stands in January 2021. Ahead of its big release, Priyanka got her hands on the jacket of her book and she shared a glimpse of the same on her social media pages. Beaming with happiness, the actor is seen holding the jacket and posing for a beautiful photo.
Priyanka captioned her post stating, "That feeling when I'm holding my book in my hands for the first time… just kidding, I only received the jacket so I wrapped it around a book to see what it would really feel like. I can't wait to get the first printed copy next month! #Unfinished @cibellelevi."
Check out the photo below:
While talking about Unfinished, Priyanka had earlier penned on her Instagram page, "The feeling of checking something off your 'bucket list' gives you an indescribable sense of accomplishment… and that's where I am in this moment. I've always wanted to write a book, but the timing never felt right. With each opportunity that presented itself, my first instinct was always to wait… because I wasn't (and I'm still not) finished. I wanted to do more, live more, and achieve more, before putting pen to paper and exposing things I've always kept private to the world."
The actor further added, "But looking back on my life as a public person, I'm super proud of what I've done and where my life is right now. I've realized you don't have to be finished to tell your story, and that sometimes life's greatest lessons are taught along the ride…when you're still figuring things out…when you're #unfinished."
Meanwhile, on the work front, Priyanka has currently shifted her base to London for quite some time now.