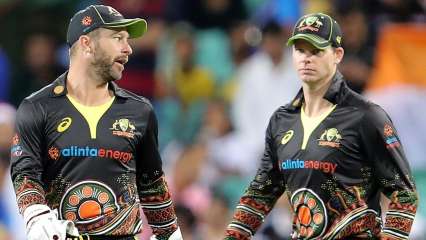 Australia coach Justin Langer said on Sunday that Steve Smith may get the captaincy again but there's still a little time for that.
Aaron Finch's glute injury meant Australia had to nominate a new captain for the 2nd T20I against India. While, many expected Steve Smith to the top job after his 24-month captaincy ban ended in March, earlier this year.
Instead, Australia handed the responsibility to 32-year old wicket-keeper batsman Matthew Wade, who became the 11th player to lead Australia in T20Is.
The decision further delayed the conversation on whether Smith will ever return to captain the side in the future, as the coach and the Chairman of Selectors, Trevor Hohns haven't been clear on that front in the recent past.
'Still a few processes away'
Langer, finally talked about after the game as due to Finch's absence and Pat Cummins being rested meant they had to take a decision on Sunday itself. 
When asked if Smith was considered, Langer talking to Fox Sports said, "Of course, we talked about a number of things. We've got so many options.
"Steve Smith has done a brilliant job in the past.
"There's probably a bit of a process we need to go through until he becomes captain again. We'll go through that.
"When the English crowd gave him a standing ovation at The Oval last year – talk about earning respect …  he's doing all the right things to show leadership without a title at the moment."
'It was time to give it back to Smith': Mark Taylor
However, former Australian cricketer Mark Taylor believed it was the right time for Smith to get back in the leadership role.
"There's no doubt mistakes were made two-and-a-half years ago now in Cape Town. There's been penalties and they've been served," Taylor sai, speaking to the Nine Network.
"Now we've got to move on. Steve Smith is still looked at by this side as a leader. He's a senior player."
After coming back into the side, Smith has certainly ticked all the boxes as far as earning that respect back is concerned and what it means for him to play for Australia by scoring a mountain of runs across formats for his country.
'Smith would do a good job, if he becomes captain again': Wade
Wade on the other hand, was of the opinion that Smith would do a great job, if he is made the national team captain again.
Wade, who has led Hobart Hurricanes in the Big Bash League (BBL) and has captained his domestic side as well in the past said that he may have been nominated as the captain but with Henriques and Smith in the team, they have got many leaders .
"We have so many good leaders, I have been given the captaincy but we have got Smith, we have got Moises (Henriques), who captains his BBL team. We have guys with a lot of experience, there is a lot of discussions among the seniors but we are all working together," Wade said.
"It is not me driving the field, obviously Finchy (Aaron Finch) is our captain and we all work together when he plays well. So Smith has plenty of say, he has been a great captain for long time and he will do a great job if he gets an opportunity," he added.