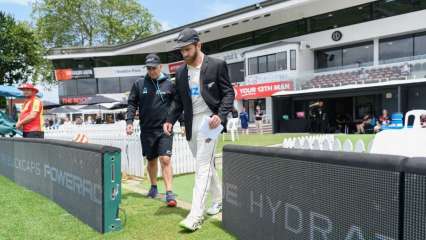 Kane Williamson will be riding high after his career-best knock of 251 against West Indies in Hamilton. 
Williamson, however, has more good news coming as his partner Sarah Raheem is due to give their first child later this month. 
New Zealand coach, Gary Stead, was of the view that the team will be absolutely fine with Williamson missing games, if he does go on a paternity leave as according to him, other things are much more important" than cricket.
Speaking a day after his side had an emphatic innings and 134-run victory against the West Indies, Stead said, "Worst case scenario, Kane misses some matches. As a dad, as a parent, you only get that opportunity once in your life to be there for your (first) child's birth and I know that it's important for Kane too. At the end of the day, we play cricket, and other things are much more important. And that is much more important."
The series against West Indies finishes with the second and the final test in Wellington starting on December 11. After which the series against Pakistan gets underway – comprising of three T20Is and two tests – on December 18.
Like in the series against West Indies, Williamson would most likely be not playing the T20s and if he indeed misses the tests, young batsman Will Young, who made his international debut in the just-concluded first test will be the 'natural replacement', according to Stead.