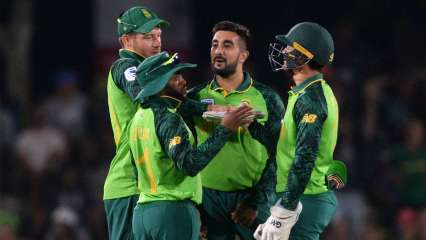 The entire ODI series between South Africa and England is on tenterhooks with even the second ODI between the two sides which was supposed to take place on Monday (December 7) in Newlands in Cape Town now being postponed.
The decision was announced late on Sunday (December 6) evening and was taken after discussion between both Cricket South Africa (CSA) and England and Wales Cricket Board (ECB) after two 'unconfirmed' positive tests in the England camp.
"The decision has been taken by Cricket South Africa (CSA) and the England and Wales Cricket Board (ECB) whilst they await the outcome of the independent ratification of the two unconfirmed positive COVID-19 tests from the England camp and the continued health and wellbeing of both playing groups," the CSA press release said.
The ODI has not been cancelled with the hope that the final two ODIs can take place on Tuesday (December 8) and Wednesday (December 9). The England cricket team is supposed to depart from South Africa on Thursday (December 10).
 "Once the findings of this review have been received, CSA and ECB will then discuss how best to proceed concerning the remaining two matches of this ODI series," the statement added.
Earlier on Sunday, the CSA and the ECB released a joint statement 20 minutes before the scheduled toss in Paarl confirming that the game's start time had been delayed. Two Covid-19 positive cases were reported among staff at the Vineyard Hotel, where both teams are staying, and England were re-tested on Saturday (December 5) evening as a result.
"The England and Wales Cricket Board (ECB) and Cricket South Africa (CSA) have agreed to delay the start time for today's One-Day International match, which is due to take place in Paarl. The England players and management underwent an additional round of PCR tests on Saturday evening, after two members of the hotel staff testing positive for COVID-19. Whilst the ECB awaits ratification of those test results the decision has been taken to delay the start of today's ODI match," the teams had announced on Sunday.
According to South African media reports, the two members in the English camp will undergo further testing to determine the accuracy of the result. Earlier, England team had won the three-match T20 series 3-0 but the ODI series has failed to kick off since then due to the fourth Covid-related event on this tour.