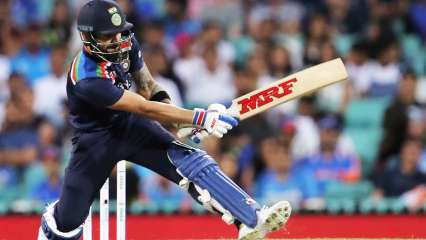 Even though Virat Kohli couldn't stay till the end to get his team over the line against Australia in the second T20I,  his innings of 40 (24) did have enough moments to savour for the viewers.
The moment that took everyone by surprise, took place in the 15th over of India's batting innings bowled by Andrew Tye.
On the fourth ball of the over, Kohli playing on 24*(17) shuffled outside the off-stump, nicely anticipating a length delivery and ramped it over the fine-leg boundary for a six after playing it while on his knees.
While the on-air commentators termed it as the shot of the night, Isa Guha said that shot was straight out of 'the AB de Villiers school of batting'.
Asked about it at the post-match interview, if there was some of de Villiers in that shot Kohli said, "It was indeed. I told Hardik, Andrew (Tye) wasn't expecting that, he said – I wasn't, the whole team wasn't – yeah, it was a funny moment there. I never thought I was gonna hit a six there. I'll send AB a text tonight and see what he thinks of that shot."
Well, Kohli didn't have to wait for much long for De Villiers' view as he gave thumbs up on social media after seeing Kohli playing a ABD-esque shot.
— AB de Villiers (@ABdeVilliers17) December 6, 2020