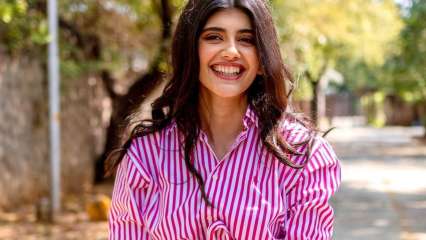 Sanjana Sanghi, who made her debut in 2020 with 'Dil Bechara', is the IMDB breakout star of the year. The actress has reacted to receiving the honour with tonnes of smiles. She wrote on her post that she cannot stop smiling after receiving the honour.
Sanjana shared images of her in casual wear, walking on the road, with a smiling face. Alongside the images, she posted, "Can't smile any wider, and can't stop smiling either!"
Calling the emotion 'surreal', Sanjana shared, "@imdb @imdbpro: THANKYOU for this immense honour . Being declared your No 1 Breakout Star of the Year is so surreal."
The actress who was paired opposite Sushant Singh Rajput in the film, thanked all audiences for their love. She mentioned, "To the best audiences in the world, this is first yours and then mine. Literally, since this recognition is entirely audience generated. YOU made it all happen!"
Sanghi confessed, "So grateful for all the the incredible geniuses I have the privilege of working with who recognise potential in me that I could never see in myself."
Finally, she concluded, "Here's to telling stories forever, working even harder and being better everyday."
See her post here:
'Dil Bechara', directed by Mukesh Chhabra, was the last film ever that Sushant worked in. The actor died mysteriously on June 14, 2020, a month before 'Dil Bechara', an adaptation of 'The Fault In Our Stars' released digitally on Disney+Hotstar.
Sanjana, on the other hand, is also part of Aditya Roy Kapur-starring film 'OM: The Battle Within'.