A fire broke out at Bollywood actress Fatima Sana Shaikh's house on Thursday night. She called the Mumbai fire brigade soon after and lauded them for reaching on time and helping her out through the scary time.
Fatima shared the incident as her Instagram story. She thanked the fire department for being there in no time. The actress confirmed that a small fire broke at her house.
She posted, "A small fire broke at my place right now and in a panic state I called the fire department and they were here in no time. And took care of the situation. Thank you so much Mumbai fire brigade."
See it here: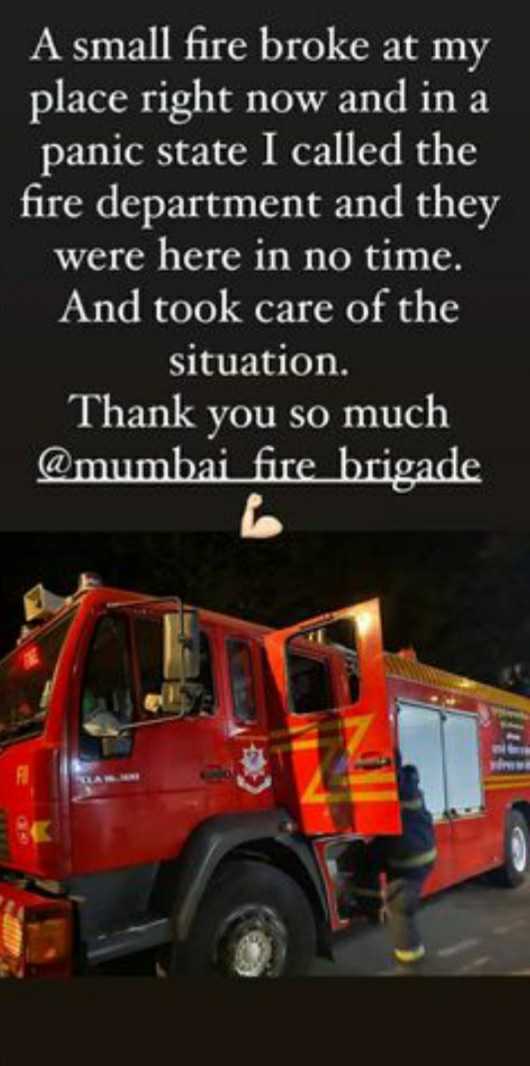 Fatima Sana Shaikh made her Bollywood debut in 'Dangal' opposite Aamir Khan back in 2016. The actress had worked on his film 'Thugs of Hindostan' in the lead role and was last seen in 'Suraj Pe Mangal Bhari' opposite Manoj Bajpayee and Diljit Dosanjh.
She was also part of 'Ludo' opposite Rajkummar Rao. The movie, directed by Anurag Basu, also featured her 'Dangal' co-star Sanya Malhotra, Abhishek Bachchan, Aditya Roy Kapur, Pankaj Tripathi, Rohit Suresh Saraf, Pearle Maaney and Inayat Verma.
In an interview with Pinkvilla, Fatima had opened up about being molested at the age of three. "I was molested when I was five years old. No! I was three years old. So you understand how deep sexism goes. It's a battle we fight on an everyday basis. Every woman, every minority fights every day. And I hope our future is better," she had shared.
The actress had also mentioned about her struggles. "That's the standard of beauty they subscribe to. That one should look exactly like this or that to become a heroine. And I clearly don't fall in that bracket, I fall into a different bracket. But there are opportunities now, there are films being made for people like me, who don't look like supermodels, who look normal, average," Shaikh mentioned.