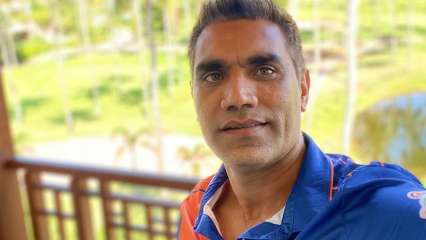 It is not often that Indian cricketers turn out in foreign T20 leagues but Munaf Patel along with the likes of Irfan Pathan, Sudip Tyagi and Manpreet Gony have been the exception this year at the Lanka Premier League (LPL). The Board of Control for Cricket in India (BCCI) rules make it clear that no active Indian first-class cricketers can turn out in foreign T20 leagues but Munaf Patel retired from all forms of cricket back in 2018. Former paceman had a brief international career with the Indian team between 2006 and 2011 but his journey from a small town of Ikhar in Bahruch district of Gujarat has been nothing short of magical.
When he burst on to the scene during the 2006 series against England at home, he was sent straight from the tutelage of TA Sekhar and Dennis Lillee at the MRF Pace Foundation to the hard grind of Test cricket. Munaf Patel ended up with 35 Test scalps and 86 ODI wicket but was part of the 2011 World Cup-winning squad under skipper Mahendra Singh Dhoni.
The 37-year-old is currently the bowling coach at Baroda Cricket Association (BCA) and turning out for the Bollywood star Sohail Khan-owned franchise Kandy Tuskers in the LPL 2020. Speaking exclusively to DNA, Munaf Patel revealed that it was not a hard task for him getting back on the field playing active cricket.
"I am a cricketer at heart and soul and I love playing anywhere. I am currently attached with BCA as the bowling coach, so I keep myself fit and try to bowl as much as possible to the Baroda batsmen in the nets. So it was not hard for me to get back into T20 league cricket," Munaf Patel told DNA from Hambantota in Sri Lanka.
"We have a lot of top international cricketers here and this is a very well managed league. The tournament is going well even under the shadow of coronavirus pandemic and all credit should go to Sri Lanka Cricket (SLC) and the organizers of the LPL," the Baroda paceman said.
Life in a bio-bubble
Things like bio-bubble and quarantine rules are new concepts for Munaf Patel too, who made his first-class debut for India 'A' back in 2003.
"I don't think that staying under quarantine is a tough situation for any of us. We stayed quarantined in our room first for 3 days and then at the hotel for 3 days. On the seventh day, we had the Covid-19 test and once that returns negative we have free to practice and train. Then every fourth day we once against have to undergo the Covid-19 test.
"These precautions are for our safety only. Cricketers have travelled from all over the world and doing this, even Dale Steyn, who is under quarantine currently. The test hardly takes two minutes so it's hardly a bother," Munaf Patel said.
Apart from being a player, Munaf Patel is also acting as a mentor for the young Kandy Tuskers franchise. "We love to share our experiences with each other, even Dale Steyn. It is chance for us to improve the quality of cricket in Sri Lanka as well as improve our own skills," Munaf Patel, who turned out for Mumbai Indians and Rajasthan Royals in the IPL, said.